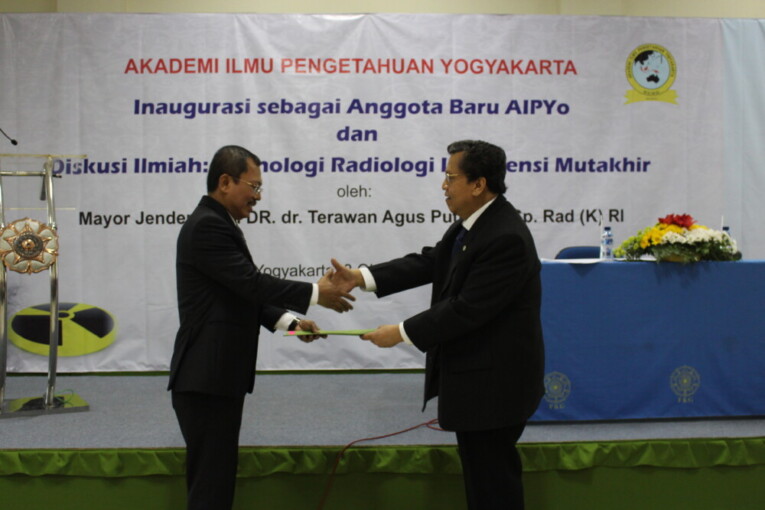 Yogyakarta Academy of Science (AIPYo) has inaugurated Head of Presidential Hospital RSPAD Gatot Subroto Jakarta, Maj. Gen. TNI Dr. dr. Terawan Agus Putranto, SpRad(K) RI, as member in an open meeting on Saturday (8/10) at Faculty of Dentistry UGM. In the meeting he delivered a speech entitled Role of Radiology and Radiology Intervention in Primary and Secondary Prevention of the Brain.
Dr. Terawan has been appointed member of AIPYo due to his contribution in radiology science. He is also Head of Indonesian Radiologists Association.
"The members that we appoint have to meet criteria, having national or international reputation as well as having wide impact findings," Chairman of AIPYo, Prof. Umar A. Jenie, said.
One of dr Terawan's contributions is the development of Radiology Intervention Technique known as Digital Substraction Angiography (DSA) that is modified with Intra Arterial Heparin Flushing. It is widely known as Brainwash which is a secondary effort for cerebral blood flow CBF) cases with the aim to support recovery and prevent progressivitas ischemia.
Prof. Umar A. Jenie, said on Tuesday (11/10) that since 1996 AIPYo has been the forum for scientists in Yogyakarta to develop innovation and thinking. Members are asked to share their thoughts to resolve problems found among the society.
Also attended the event radiology specialists, related specialists and scientists in primary medicine, dentistry, pharmacy, etc.
Prof. Umar hoped AIPYo could enrich the discussion and discourse on policy studies.