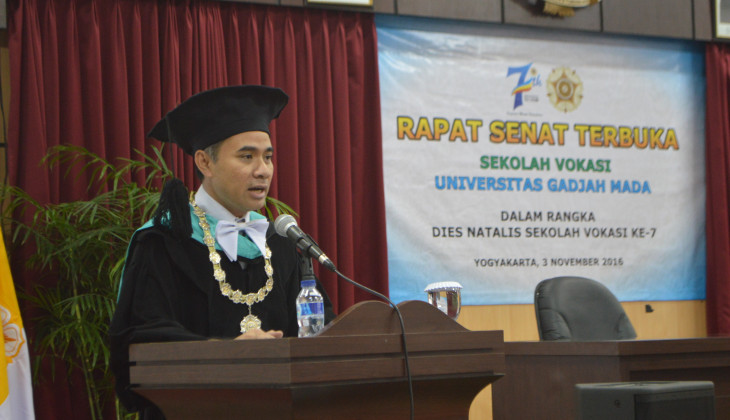 Vocational School (SV) UGM accelerates the formation of Diploma IV (four) program. This step is taken to better prepare to meet the high demand of ready-to-work workers.
Dean of the Vocational School of UGM, Dr.Wikan Sakarinto, S.T., M.Sc., said SV UGM currently has four D IV program which are midwifery, management and maintenance of heavy equipment engineering, network technology, as well as management and maintenance of civil infrastructure engineering. In the future, SV plans to open more DIV program to provide ready-to-work human resources.
"A total of 10 proposals have been submitted to the UGM Vocational School Senate," he said when delivering an annual report of SV UGM 2016 on Thursday (3/11) at the local campus.
Some of DIV programs that are proposed are Transportation and Logistics, aircraft MRO (Maintenance, Repair, & Overhaul), and Applied Foreign Languages. However, the DIV program that is ready to be established in the near future is the department of Applied Foreign Languages. The study program will be opened in the academic year of 2017/2018.
To support the idea of developing the D IV programs, SV initiated various cooperations with a number of partners both at national and international levels; some of them are China, Japan, Korea, and Germany. Collaboration is emphasized on strengthening the Vocational School, especially in the matter of competence and certification program.
SV Enthusiasts Rises
On that occasion, Wikan also informed that the number of enthusiasts of SV UGM has increased significantly each year. In 2012 the number of applicants reached 6,800 and in 2016, it reached to 21,000 applicants for 26 study programs.
"There is an increase of applicants by up to 300 percent over the last four years," he said.
Wikan said that the increasing number of applicants is a challenge for SV UGM to be more serious in managing vocational education. SV UGM is expected to educate the Indonesian youth to be able to compete in the global era. (UGM / adelily)