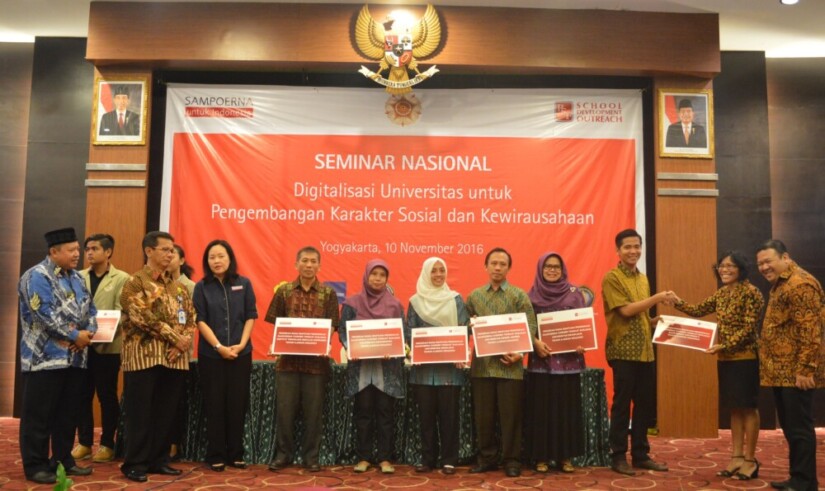 A number of lecturers joining Vice Dean Forum from Universitas Riau and another delegation from Universitas Pembangunan Nasional 'Veteran' East Java on Friday (11/11) visited UGM. Both were welcomed by UGM Student Affairs Director, Dr. Senawi, M.P., in the Multimedia room of UGM Main Office. Both delegations discussed management of student activities and student creativity programme.
Dr. Iwantono, M.Phil., delegation chairman from Universitas Riau, said their visit was to learn and explore information related to the strategy taken by UGM on student affairs, which include Student Creativity Programme, Student Activity Unit, and management of competitions both at national and international levels.
"We would learn from this experience sharing from UGM and make this an input for us to implement," said Dr. Iwantono.
Delegations from UPN East Java shared the views. Their visit was to learn about student affairs, especially student creativity programme and student organisations at UGM. They hoped they would learn much from this visit to enhance the quality of their student activities.
In the meeting, Head of Student Creativity Programme Sub-directorate of UGM, Ahmad Agus Setiawan, M.Sc., Ph.D., described the strategies taken by UGM to always give training and mentoring to students who will join competitions. This year UGM also conducts TOT (Training of Trainers) for various competitions.
"Hopefully, of the Training of Trainers will arise trainers who will later train other students," said Agus.