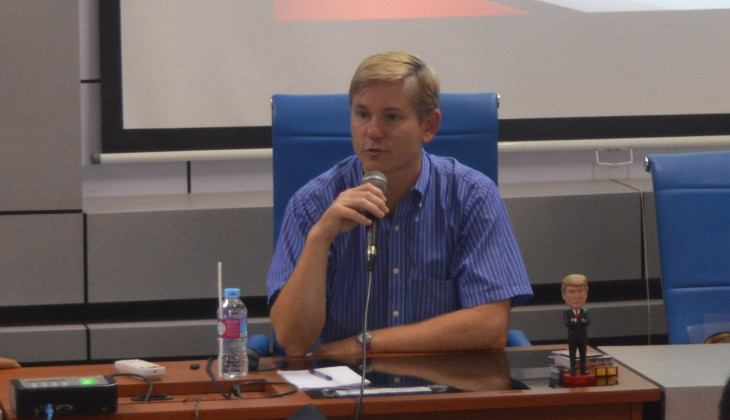 Donald Trump has overturned predictions and pre-election pollings by winning the general elections and be president-elect of the United States. Recently, however, a wave of protests and concerns over the Trump regime spread across the world. Related to this issue, Institute of International Study (IIS) UGM presented Director of International Studies of Washington College, Dr. Andrew L. Oros, in a focus group discussion on Thursday (17/11) at Faculty of Social and Political Sciences UGM.
Questions arise as to how Trump won the election, why it happened, and how the U.S. would be under the Trump government. These have become an issue of discussions in the past few days around the world.
"Politically speaking, it's not clear what the direct effect and long term effect of the win, although predictably, a more conservative agenda will be followed," Dr. Oros said.
Particularly for the US, since the campaigns period, the elections have divided the people of America who support each presidential candidate. It is also important to note, however, that this can increase the discussion between the American citizens on current issues, including on their prevailing electoral systems.
"There can be continuing discussions to change the electoral college system in a certain level. The US has 27 amendments to ratify. I can see that as something that may happen," said Oros.
Further he explained how Trump's victory affects Asian countries. He commented this as harder to predict. After the elections, the world saw the emerging effects on the global finance and economy. But he saw this as natural remembering the character of global economy that is always changing.
"In Asia, the effect of Trump's victory is more obscure. But one thing is for sure, the Trans-Pacific Partnership (TPP) will vanish, and that the US Allies in Asia are very worried with what will be done by the new president," he said.
These concerns, in his opinion, emerged due to the characters of Trump as a businessman that has more transactional consideration and short term influence in terms of relations with their Allies. Trump is also seen as impatience to be engaged in contentious issues that involve other states.
Even so, Oros views that some policy of President Barack Obama would continue. He hopes Trumps' policy will constitute a good choice.
"Many people who have voted for Trump really want to witness a change. But whatever he said during campaigns, I hope Mr. Trump will make the right decision for the people of America," said Dr. Oros.