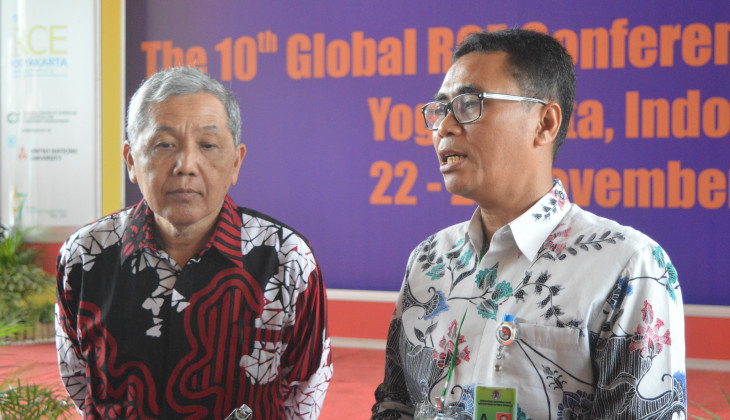 UGM hosts the 10th Global RCE Conference from 23-25 November 2016 with the theme Engaging with Local Communities for the Sustainable Development Goals. The conference brings together academics, policy makers, industrial player, NGOs etc to discuss acceleration of global action to support Sustainable Development Goals (SDGs) attainment.
Vice-Rector of UGM for Research and Community Service, Prof. Dr. Suratman, said on Tuesday (22/11) in Grha Sabha Pramana hall that, "Seventeen programs of SDGs has to be succeeded by all countries, especially members of RCE," adding that it was important to interpret the global development to the regional and local contexts. In the local context, Yogyakarta, he explained the spirit of cooperation and Hamemayu Hayuning Bawana philosophy that gives guidance to people for implementation.
"Such philosophies have eroded nowadays, unfortunately. So, through the RCE, we want to remind people of these principles of life. Let's make UGM, the Palace, and kampong as part of our implementation of ESD for SDGs," he said.
Similar views were raised by Deputy Minister of Environment, Dr. Drs. Sugeng Priyanto, M.Si., alongside the 1st International Conference on Biodiversity, Food Security and Health in Grha Sabha Pramana a day before. He said the RCE Global conference was an important step to achieve natural resources sustainability.
Meanwhile, Agricultural Technology Professor from UGM, Prof. Dr. Ir. Umar Santoso, M.Sc., said, "Biodiversitas are immense, but we need to think on how to have more concrete connections between biodiversities and people's welfare. We need to improve our welfare but it has to be controlled so as to not reducing the biodiversities," he said.
Reportedly, as many as 160 participants from countries around the world will attend the event that will present seminars, keynote speech, discussion, visits to local communities and exhibitions.