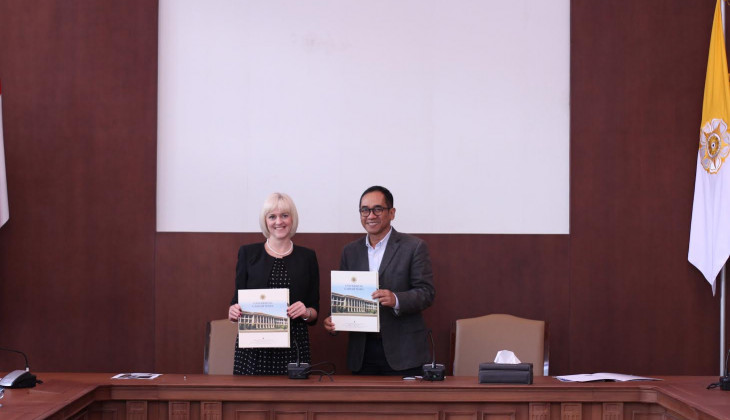 Universitas Gadjah Mada (UGM) and University of Leeds, UK, have agreed to expand collaborations on education and research. The agreement was signed by UGM Vice- Rector for Cooperation and Alumni, Dr. Paripurna Sugarda, S.H.,L.L.M., and Deputy Vice-Chancellor for Research and Innovation of University of Leeds, Prof. Lisa Roberts, on Friday (25/11) at the Conference Room.
UGM and University of Leeds previously collaborated in double degree program on Transportation Systems and Technology Magister (MSTT). Now it has expanded to joint degree with Faculty of Economics and Business, Faculty of Law, Faculty of Psychology, and Faculty of Engineering; also in research through joint seminar, conference, symposium, public lecture, student and lecturer exchange.
Paripurna said the collaboration was expected to strengthen the relations between UGM and University of Leeds in order to improve education quality. "I hope in the future this collaboration would bring benefits to UGM as well as University of Leeds," he said.
Lisa Robert shared the views, hoping that the collaboration would enhance the human resources quality of both parties. "Hopefully in the future stronger collaborations would be established in more areas," said Roberts.