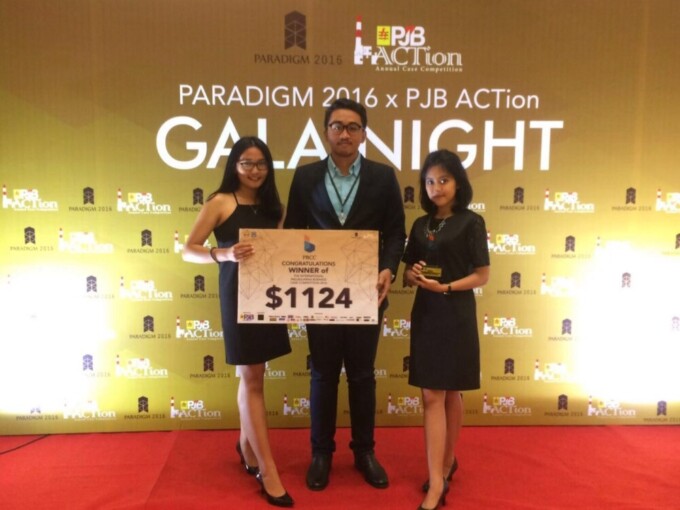 Two Universitas Gadjah Mada teams from Faculty of Economics and Business have won first and second winners in the The International Padjadjaran Business Case Competition 2016 (PBCC 2016) in Bandung, West Java, from 14-17 November.
Students of class 2013 – Audita Rizqina Amalia, Made Devina Veda Kanthicha, and Benedict Mulyono Irawan – won the first place award while students of class 2014 – Albert Jeffersson, Windy Dhaliana, and Reyvazzahra A. Harris – won the second place award.
PBCC 2016 is a competition run by Faculty of Economics and Business, Universitas Padjadjaran Bandung, in collaboration with PT. Pembangkitan Jawa Bali (PJB) company that supplies power to the country. Participants had to do tests related to the activities of the company.
In the first selection phase, they had to resolve the Pre-Case test related to corporate branding of PT. PJB to support the government's project as big as 35,000 MW. The 15 best teams would go to the Final-Case.
"Our team was one of the big 15 that went through to the Final-Case along with the other UGM team. These 15 teams had to present the Pre-Case and Final Case results at Universitas Padjadjaran and PLTA Cirata PT. PJB to the juries consisting of academics, consultants and PT. PJB executives," said Benedict on Tuesday (29/11).
During the presentation, the UGM delegates had to compete for delivering their ideas and presentation skills along with competitors from Universitas Prasetiya Mulya, Universitas Indonesia, Institut Teknologi Bandung, Universitas Pelita Harapan Medan, Universitas Brawijaya, etc.
"We were relieved to be able to give the presentation and answer the questions from the juries well without coaching or mentoring. We were excited to join the event as we gained new knowledge and we were demanded to always think critically," said Ben.
Eventually, both teams were declared the winners and were entitled to receive as much as USD1124 and 825 each as prize money.