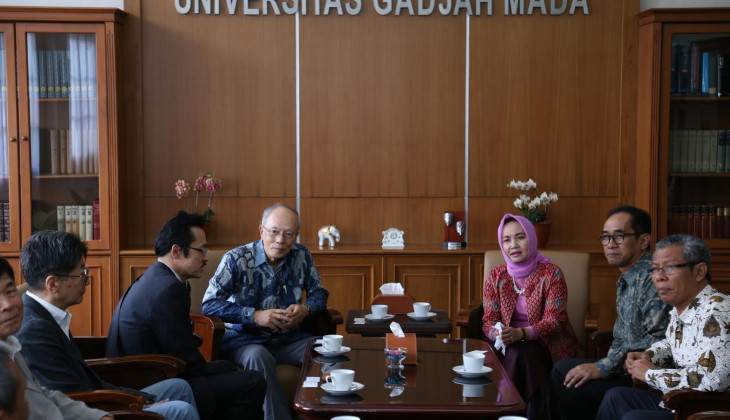 Prof. Koichi Maekawa, President of Hiroshima University of Economics (HUE), Japan, visited UGM on Wednesday (21/12), received by Rector of UGM, Prof. Ir. Dwikorita Karnawati, M.Sc., Ph.D. Also accompanying the Rector were Vice-Rector for Cooperation and Alumni, Dr. Paripurna P Sugarda, S.H.,L.L.M., Dean of Faculty of Economics and Business, Dr. Eko Suwardi, M.Sc., Vice-Dean of Faculty of Cultural Sciences, Dr. Agus Suwignyo, and others.
The visit discussed implementations of cooperations that have been conducted between UGM and HUE as well as to explore cooperation potential in the future. So far, cooperation is on research collaboration, seminars, and student and lecturer exchange.
Prof. Karnawati welcomed the increased cooperation with HUE, hoping that it can extend to more areas and spur the progress, both for UGM and HUE.
"UGM is committed to increasing internationalisation, so this cooperation is expected to benefit both parties," said the Rector.
Prof. Maekawa said the visit was to extend the cooperation between UGM and HUE in research and education. HUE is to open more opportunities for UGM in student exchange and research collaboration for lecturers. HUE will also offer lecturers scholarships so they can have their doctoral degree from HUE.
Dean Eko Suwardi added they had collaborated with HUE for the past 25 years in double degree programme, Student Community Service (KKN), and lecturer exchange.