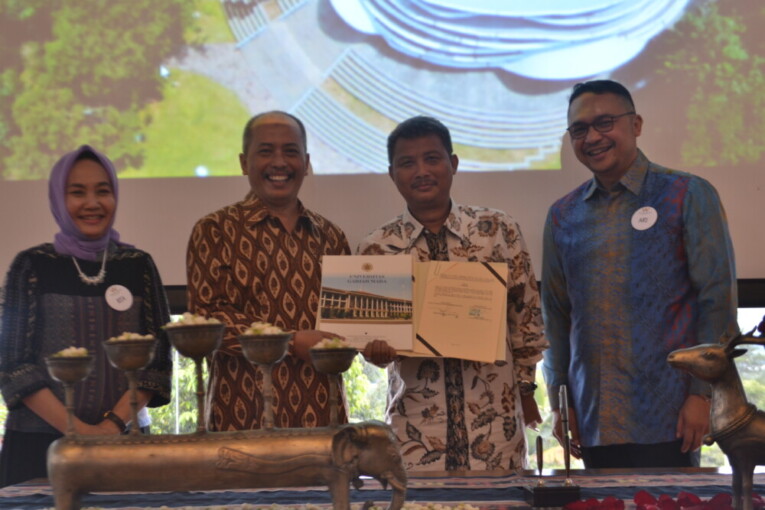 Universitas Gadjah Mada and PT Wijaya Karya (WIKA) company have agreed to collaborate on academic matters, research and human resource for innovation and technology. Signing of the agreement was done during the 8th Forum Riset Industri Indonesia (IIRF) at Wikasatrian hall, Bogor, West Java, on Wednesday (3/1).
The collaboration is on field practice, contract drafting, apprenticeship, community service and education and consultation platforms.
Rector of UGM, Prof. Ir. Dwikorita Karnawati, M.Sc.,Ph.D., welcomed the cooperation with WIKA that is to increase technology sovereignty and HR capacity. It is expected to improve HR quality through apprenticeships at WIKA and innovations in building structures and tunneling technology.
"UGM will open double degree programme in underground space and tunneling engineering areas with Warwick University, UK. The British university started studying tunneling since 200 years ago and we hope the WIKA could participate in a joint factory or joint expert to develop tunneling in Indonesia together," said Dwikorita.
The Rector further asked the WIKA to contribute to teaching industry development and social entrepreneurship for students to get involved in the production process of research applications and digital startups through innovative academy programme.
WIKA's Director for Human Capital and Development, I Gusti Ngurah Akshara Danadiputra, said the cooperation with UGM would produce research outcomes applicable for infrastrucutre development that is currently handled by WIKA across Indonesia. "I hope WIKA could be the partner for UGM to make new innovations. WIKA also opens its door and wants to share with UGM what we will be doing in the country," he said.
Later on, WIKA and UGM presented their works for possible cooperation, including building energy management system (BEMS) by researchers Dr. Suharyanto, Sajiya, Ph.D., Dr. I Wayan Mustika, Avrin Nur Widisatuti, M.Eng., and Yusuf Susilo Wijoyo, M.Eng.