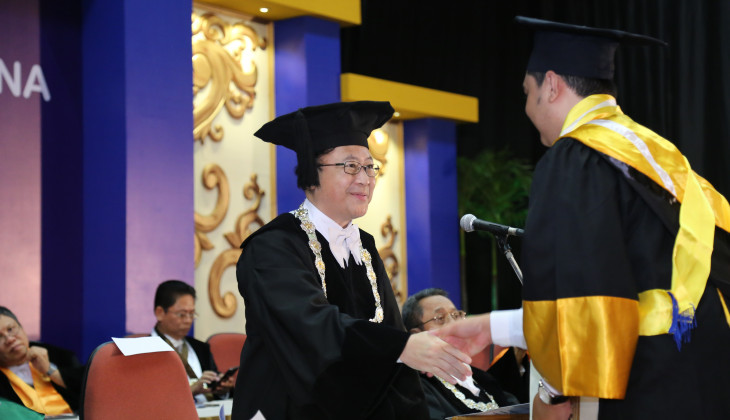 Universitas Gadjah Mada has inaugurated up to 1,097 graduates from master programme (986), doctoral programme (37) and specialist programme (74) on Thursday (19/1). Average study time for magister programme is 2 years and 8 months, specialist programme 4 years and 10 months, doctoral programme 5 years and 11 months. The shortest study time for magister is achieved by Ahmad Kharis from Social Development and Welfare study programme who completed the degree in 1 year and 2 months. For specialist, Shinta Ferronika from Periodontics study programme finished in 2 years and 3 months. The doctoral programme was achieved by Abdul Salam Ahmad Abed Khalaf from Medical Science and Health in 2 years and 2 months.
The youngest graduate from magister, 22 years and 6 months, is Sawitri from Forestry science while from specialist is Riana Helmi Pediatry who completed at the age of 25 years and 9 months. The youngest doctoral graduate is Tatag Lindu Bhakti from Electrical Engineering who completed it at 30 years of age. The average GPA for Magister is 3.55, specialist 3.56, and doctoral 3.68.
UGM Vice-Rector for Academic and Student Affairs, Prof. dr. Iwan Dwiprahasto, M.Med.Sc., Ph.D, in his remarks during a graduation ceremony in Grha Sabha Pramana UGM congratulated the new graduates. In his opinion, what has been achieved by them is a thing to be thankful for, adding that "it is not enough, however, if you don't play your role in response to various global issues," he said. The global challenges, according to Prof. Iwan, are food security. He mentioned everyday there are 797 million people suffer from hunger and 2 billion people malnutrition. "The continuous food security problem among world communities poses a big challenge to the world," he said.
World population figure that is getting more difficult to control became one of the reasons. By 2050, it is predicted the population will be 9.7 billion, or a 3.5 million increase from now. "This means in the next 50 years, the world population will double," he said.
The more population the more people in need of food from processed meat and dairy products whilst the production of grass and seeds are getting more limited due to the decreasing number of people turning to agriculture as their source of livelihoods. Issue of urbanisation massively leave environmental problems due to the decreasing fertile soil for crops. "The humus is disappearing, which leaves some 40 percent of the lands arid. This is exacerbated by rising global temperatures that cause more lands turning into desserts," he said. Iwan said it needs 1,500 litres of water to produce 1 kilogram of wheat, so 16 thousand litres of water to produce 1 kilogram of beef. "The food production takes up 70 percent of water in the world, in year 2050 we will need the water twice this amount today," he said. To meet these challenges, said Iwan, an agricultural system is required to guarantee food sustainability and affordably.
Another global issue is the more stagnant world economic growth. In the past five years, said Iwan, it has turned more worrisome, unemployment causes the bigger gap between the rich and the poor. "Over the last ten years income per capita of world population has been relatively stagnant, even decreasing than the daily needs. This would eventually trigger social vulnerabilities," he said.
So, Iwan assessed that Indonesia needs to enhance its economy. Adopting society oriented approach is one way to prevent the disparity between social stability and poverty. Cooperation between government and private sector is the key to meet world challenges amidst the economic growth and social inclusion. So, each state component needs to get involved in responding to the global challenge facing the economy. "Working innovatively, effectively, productively, with entrepreneurial spirit and wise use of technology, I think, are the best solutions," he said.