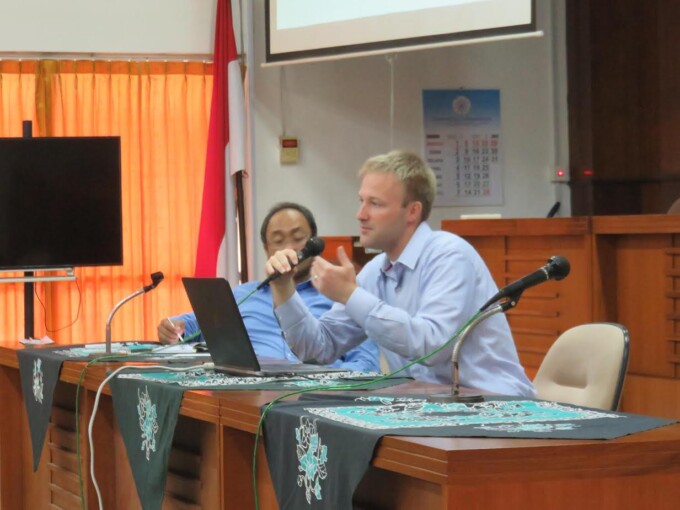 The National Meeting of Research, Technology, and Higher Learning Ministry 2017 ended on Monday (30/1) in Ghra Sabha Pramana UGM. Having the theme Strengthening Synergy of Research, Technology, and Higher Learning to Increase Competitiness, it was attended by Research, Technology, and Higher Learning Minister, Prof. Mohamad Nasir, Ph.D., and university representatives from across Indonesia.
Closing the event, the Minister presented conclusions which include, among others, strengthening of learning and student affairs. He emphasised on the quality of assurance of higher learning institutions. He further asked that the student creativity on campus can be done comprehensively. On another issue, he highlighted the online verification system for university certificates.
The Minister also touched upon the existence of educational institutions for teachers (LPTK). He hoped this would generate professional teachers that are ready to produce an excellent generation. During this time, there have been problems among vocational school teachers with the limited number of teachers that are normative, adaptable, and productive. "So, in the future, we will make adjustments to teacher profession programme for college graduates, especially at polytechnics," he said.
The national meeting was closed with awards presentation to individuals and universities. Awards for Public Services Entity State University went first to Universitas Brawijaya, second, Institut Teknologi Sepuluh Nopember, and third, Universitas Sriwijaya. The award for State Owned Legal Entity University went to Universitas Gadjah Mada. UGM also earned an award as best institution in journals management.
After the event, Rector of UGM, Prof. Ir. Dwikorita Karnawati, M.Sc., Ph.D., expressed appreciation to the awarding, which, she said, was due to the collective efforts by all members of UGM academic community, adding "the awards are not the top (goal), but the start. There are still many areas to improve by UGM," said the Rector.