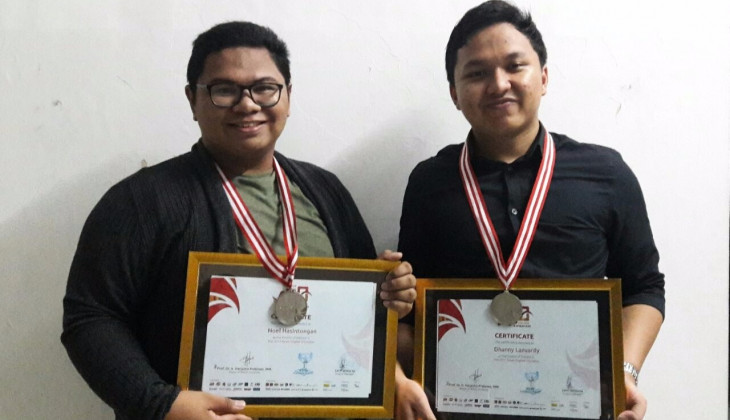 Universitas Gadjah Mada (UGM) students have made another achievement at the international level. This time the University's English Debate Society (EDS UGM) finished runner-up in the Asian English Olympics (AEO) competition at Universitas Bina Nusantara, Jakarta, from 9-13 February 2017.
The EDS team, with members Noel Hasintongan Simatupang and Dhanny Lazuardi, also earned individual awards. Noel Hasintongan was adjudged the 2nd best speaker and Dhanny Lazuardi the 3rd best speaker.
AEO is an English debate competition at the Asian level that is regularly staged by Universitas Bina Nusantara. This year, 64 teams from high schools and universities joined the event, coming from Bangladesh, Indonesia, Malaysia, Singapore, South Korea, etc.
Noel said that in the competition they competed strongly with other teams from Asian countries through 6 stages of selection, namely pre-elimination, quarter-finals, semi finals, and finals.
"We had debates on several themes, such as political, social, cultural, economic, and legal issues, as well as other current world issues," he said on Thursday (23/2).
Noel said that in the finals they met three strong opponents from Singapore Management University (SMU), Solbridge University, and Universitas Indonesia. They debated on the issue of Muslim Rohingya in Myanmar with the UGM team acting as Opening Government.
"Finally, we finished runner up. The winner was the SMU team and in third place was Solbridge University," he explained.
The trainer of the EDS UGM team, Sry Hardini Puteri, appreciated this win. It is expected to inspire other EDS members to also make achievements.
"Hopefully, the achievement can be raised one level up whilst still maintaining the tradition of winning," she said.
Sry Hardini said the competition trends in English debate have grown tighter each year, so the EDS UGM improves the quality of the team by holding practices each week and intensive practices for 2-3 months ahead of a competition.
"Presently, several teams from other Indonesian universities have invited foreign coaches to improve the quality of their teams. We also hope for the support from the universitiy for this facility," she added.