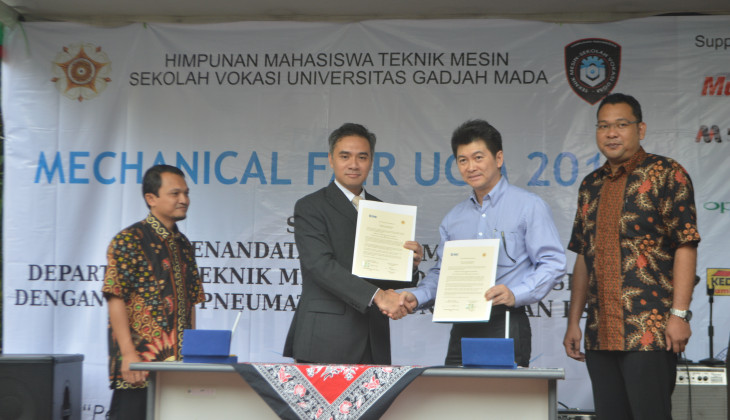 Vocational School of Universitas Gadjah Mada (UGM) built cooperation with PT. SMC Pneumatics Indonesia and Manufacture Industrial Inspector Profession Certification Institute (LSP IIM). The cooperation aims to strengthen student competency, particularly students of Mechanical Engineering Department.
Memorandum of Understanding (MoU) was signed directly by Dean of Vocational School UGM, Dr. Wikan Sakarinto, and Director of PT. SMC Pneumatics Indonesia, Leow Peah Soon, as well as Director of LSP IIM, Ir. Sindu Utomo Tambunan. The MoU signing was done on Tuesday (28/2) after Mechanical Fair opening at Mechanical Engineering Department, Vocational School UGM.
The cooperation between the School and PT SMC Pneumatics Indonesia is built to establish a student training center for the department. Meanwhile, the cooperation with LSP IIM is built to establish a competency test center to support acquirement of student competency certification.
Wikan said Vocational School UGM keeps making innovation to increase its graduates' qualities and competencies, one of them is through cooperation with many partners, both from local and international industries.
"We hope our graduates not only have diploma certificate, but also competency certification which is recognized by industries," said Wikan.
The cooperation with PT. SMC Pneumatics Indonesia and LSP IIM aims to build and increase graduates' competencies. According to Wikan, his office has been focusing on establishing D4 (Diploma 4) and applied S2 (graduate) program which will give pathway for diploma to continue their studies to the higher education program.
"We cooperate with university in China to develop D4 double degree, while we cooperate with universities from Singapore and Germany for the S2 program," he added.
Meanwhile, Leow Peah Soon says he is fortunate to build cooperation with UGM Vocational School due to the help given to increase their students' education and skills so they will be ready to face working field in the future.
Sindu Utomo Tambunan also said the same thing. He hoped the competency test facilities will increase students' competencies with hope they can have competitiveness both in national and international levels.
"We hope this cooperation can be continued and expanded in other areas," said Sindu. (Humas UGM/Fiki)