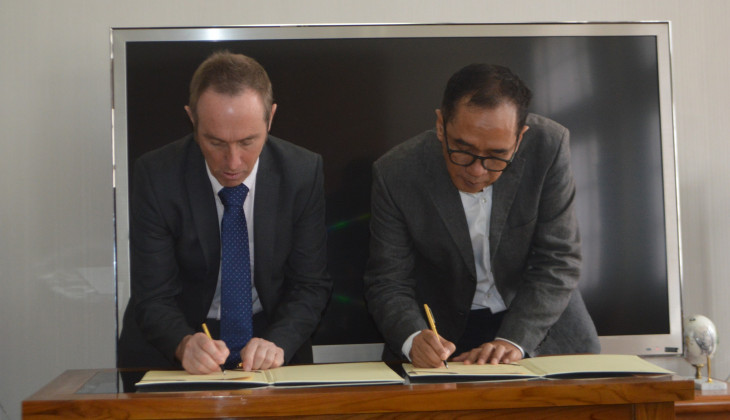 Universitas Gadjah Mada (UGM) and University of Nottingham Ningbo China (UNNC) have established cooperation in education and research. This cooperation is marked by the signing of a Memorandum of Understanding by the Vice Rector of Cooperation and Alumni at UGM, Dr. Paripurna P. Sugarda, S.H., LLM., and Provost of The University of Nottingham Ningbo, Prof. Chris Rudd, on Thursday (9/3) in the office of UGM's Rector.
The cooperation will cover education aspects such as lecturers and student exchanges. Meanwhile, the research aspect will cover collaboration between them over research that is carried out.
Chris Rudd said his party gives opportunity to students from all over the world to study at UNNC. The foreign students who continue their study there come from more than 60 countries around the world.
"We are open for students from all over the world, including Indonesia," said Chris.
Chris Rudd said the cooperation with UGM will be a good opportunity for them to broaden the UNNC study areas. Moreover, it can strengthen research which will be conducted later.
"We hope we can expand our cooperation into a broader scope in the future," he added.
Paripurna welcomes the cooperation. On the occasion, Paripurna promoted the Students Community Services activities as one of the community services provided by UGM students. He opened up the opportunity to establish cooperation over community services with UNNC.
"We have Sthe tudents Community Services program which can be an area of cooperation in the future," said Paripurna.
The UGM Students Community Services program is one of students' learning facilities for implementing their knowledge directly in the community. Through this program, students from various study programs collaborate in solving communities' problems.
Moreover, they help implement the government programs in the community. More than 8,000 students are deployed in many rural areas in Indonesia every year to conduct the community services program.
"Many foreign students from overseas join thhe Students Community Services program at UGM," he added.