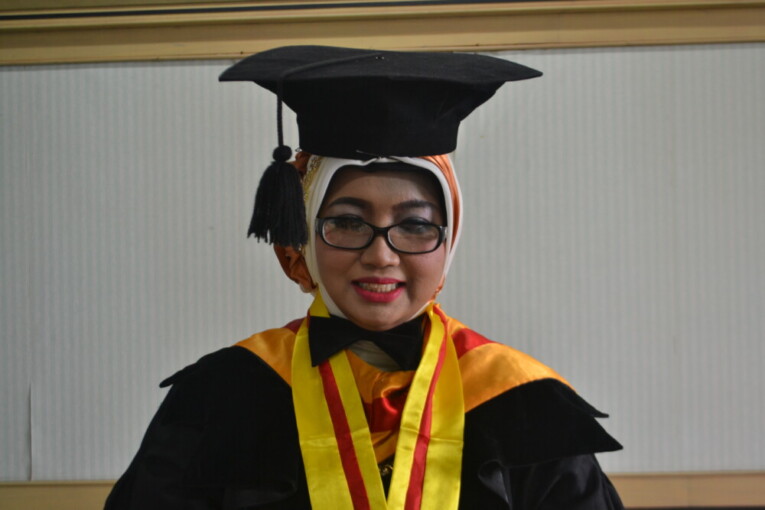 Use of agricultural land in Imogiri, Bantul regency, is decreasing due to the increasing rate of land use conversion. The decrease happens to rice field and crop field by 30.16 percent than before. Land conversion impacted on the decreasing income of farmers who have less than 0.18 hectare of land. This was stated by Nurul Khotimah, S.Si., M.Si., in her doctoral promotion of Environment Sciences at UGM Graduate School.
Nurul Khotimah conducted research on 369 farmers in Imogiri. In average their age is 54 years old. "The youngest is 40 years old and the oldest 74 years old. So, the majority of the farmers there is over 40 years of age," said Nurul Khotimah on Friday (17/3).
According to Nurul, the farmers cultivate the land on the plain and hillside. Their average income is Rp515 thousand per month. "This figure is under the minimum wage of Bantul regency which is Rp1.1 million per month," he said.
Nurul said in average the farmer in Imogiri has land less than 0.18 hectare. "It is appropriate to say that the land they cultivate is relatively narrow, automatically, the income is low, too," she said.
Even so, she added, if the land is rented, the level of land resource cultivation is higher, on the contrary, if it is their own property, the level of land resource cultivation is lower. "The status of rented land urged the farmer to reduce operational cost and harvest failure risk, so they will try their best optimally," she said.
Her research also found that the higher the income, the higher land resource cultivation. But if the income is lower, the land resource cultivation will also be lower. "Farmers in hillsides lands are motivated to cultivate better remembering the limited condition of such lands," she said.
Of her research, Nurul Khotimah said the income of farmers in Imogiri is relatively lower in all types of land, so a government policy is required to increase the rice productivity, protect the sale cost of rice, promotion of Imogiri rice and modernisation of infrastructure and facilities. Also, the existence of sultan ground among a few number of residents has allowed such lands to be still maintained according to their function.