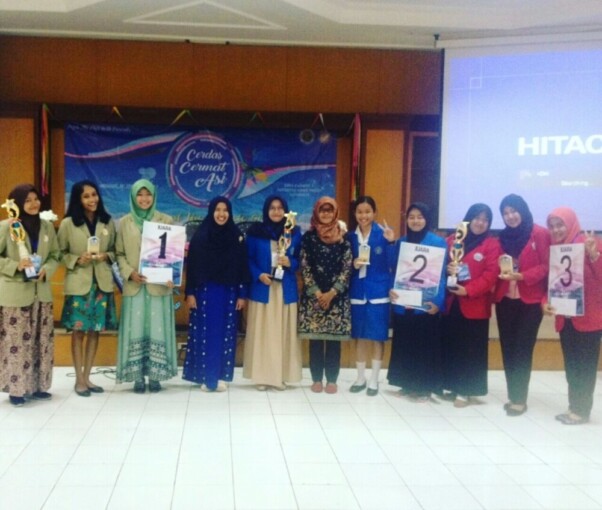 Students Team from Faculty of Medicine Universitas Gadjah Mada (UGM) became the winner of ASI (breast milk) Competition at Yogyakarta and Central Java Level which was held on February 26, 2017 at Unversitas Ahmad Dahlan Yogyakarta.
UGM Fatih Team which consisted of Fitri Yuliani, Winning Canny, and Vincentia Fanny Gita Rosari from Nursing Science Faculty of Medicine succeeded achieving the first winner after eliminating the other 19 teams coming from several universities in Yogyakarta and Central Java region, such as Universitas Muhammadiyah Yogyakarta, Universitas Muhammadiyah Semarang, Universitas Ahmad Dahlan, Universitas Gadjah Mada, Universitas Aisyiah, Yogyakarta State Health Institute, Yogyakarta Midwifery Academy, Karya Husada Health Academy, Bethesda Health Institute, and Guna Bangsa Health Institute.
Fitri Yuliani said the competition is a yearly event which is held by ASI Corner Faculty of Medicine Universitas Ahmad Dahlan Yogyakarta. This year, their theme is entitled Let's Find the Miracle of ASI.
The struggle to be the winner was not easy for Fitri and her team. They had to compete in several competition stages before going to the final. This competition consisted of three stages, namely elimination, semi-final, and final.
At elimination stage, all teams were required to do written test. Then, the participants who earned at least 9 out of 10 points were selected to move forward to the semi-final. In the semi-final, three teams were selected to go to the final.
"In the final, UGM team competed with teams from Guna Bangsa Health Institute and Yogyakarta Midwifery Academy. We are grateful to get the highest point, said Fitri on Wednesday (22/3) at Faculty of Medicine UGM.
Fitri admitted that she feels proud upon her team achievement. She hopes this achievement can motivate and inspire other students to make other achievements both at regional, national, and international level.