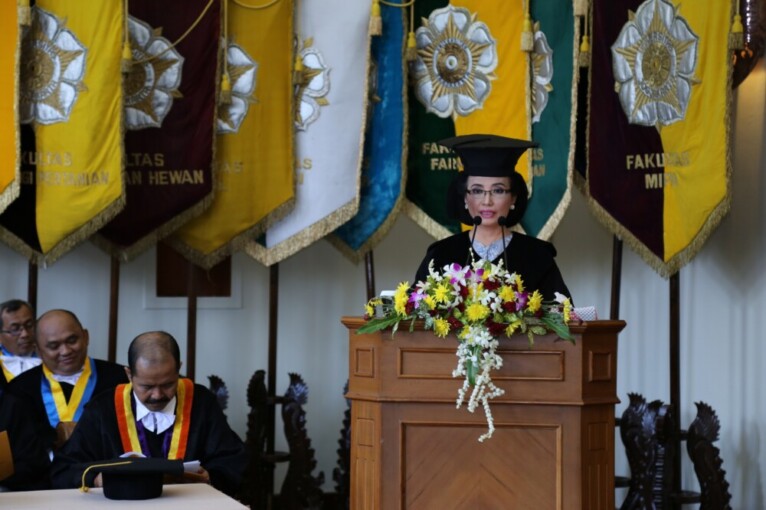 Despite its advantages of integrating many functions, Henstock-Kurzweil integral is not very well known for mathematicians and non-mathematicians researchers.
Prof. Dr. Christina Rini Indrati, M.Si observed mathematic users, particularly in Indonesia. Most of them use Riemann integral in their researches, while several researchers use a Lebesgue integral.
"It happens because most of the functions used by researchers are continuous functions or functions which are limited by Lebesgue integral functions," said Rini Indrati at Senate Hall on Wednesday (29/3) during her inauguration as Professor of Faculty of Mathematics and Natural Sciences UGM.
According to Rini Indrati, space structure of the Lebesgue integral function is a complete norm space. The theory of Lebesgue integral has already completed thus making convenient for its users, while the theory of Henstock-Kurzweil integral is not as complete as a Lebesgue integral theory.
"Unfortunately, all this while, the result of research in abstract space has yet to give useful result and it is still really abstract to be implemented," she added.
Therefore, Rini Indrati said it is still needed advanced research to get more simplified and applicable theories. According to her, a complete space structure of Denjoy becomes important key in developing theory and application.
Reading a speech on a Glimpse of Integral Henstock-Kurzweil and its Development, Rini Indrati further explained that the development of integral theory is never stopped. Moreover, the development happens both from integral theory self-interest and the development of mathematics as well as its application.
"The success of Lee Peng Yee in 2013 in introducing the weak version of controlled convergence theorem in creating typology in Denjoy space opens opportunities for conducting research of Henstock integral on every aspects of mathematics and subjects which need mathematics," she emphasized.