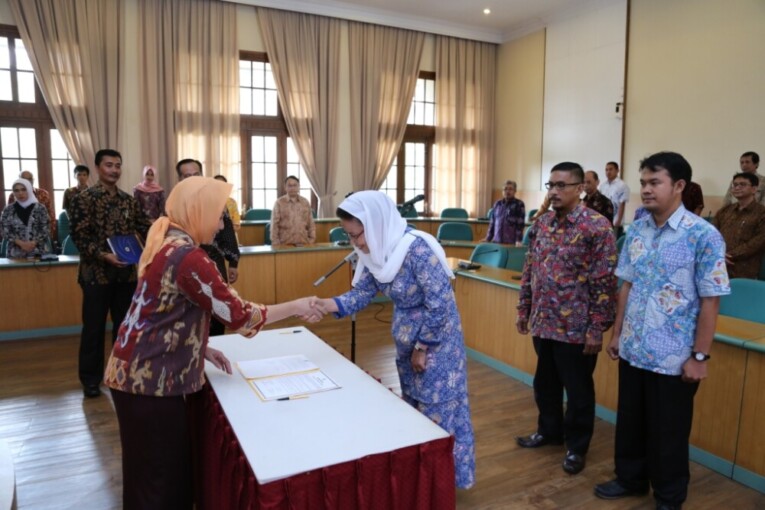 Universitas Gadjah Mada and PT. Bank Mandiri (Persero), Tbk, have agreed to establish cooperation in providing payment transaction services through host to host payment. Vice-Rector for Planning, Finance and Information System, Dr. Didi Achjari, S.E., Akt., M.Com, and Director of Digital Banking & Technology of PT. Bank Mandiri (Pesero), Tbk, Rico Usthavia Frans, signed the agreements, witnessed by Rector of UGM, Prof. Ir. Dwikorita Karnawati, M.Sc., Ph.D., on Friday (31/3).
Rico Usthavia Frans welcomed the cooperation. Although PT. Bank Mandiri is a business entity, but it also wants to be an agent of change.
"With the spirit to make the country prosper, we would like to appreciate the cooperation to improve financial transaction, particularly in cash management," he said.
The cooperation includes host to host payment facilities that cover account information on which UGM will receive information registered in the host to host facilities. For transaction, the payment instruction to accounts uses facilities such as inhouse transfer, payroll transaction, clearance (SKN) and RTGS and telegraphic transfer.
Rico Usthavia hoped as partner of UGM, PT. Bank Mandiri would be able to develop financial platform or other related matters. They also hoped to be able to facilitate the needs of students through mobile applications.
Retor of UGM said she would be ready to follow these up, especially the programmes that are related to the development of Smart and Resilient Village.
"The Smart Village that we develop now very much needs support from everyone. The generous assistance from Bank Mandiri is meaningful and innovative. In the past the village is not Bank Mandiri's priority but now it has changed, hopefully by this we can bridge the socio-economic gap in the country," said the Rector.