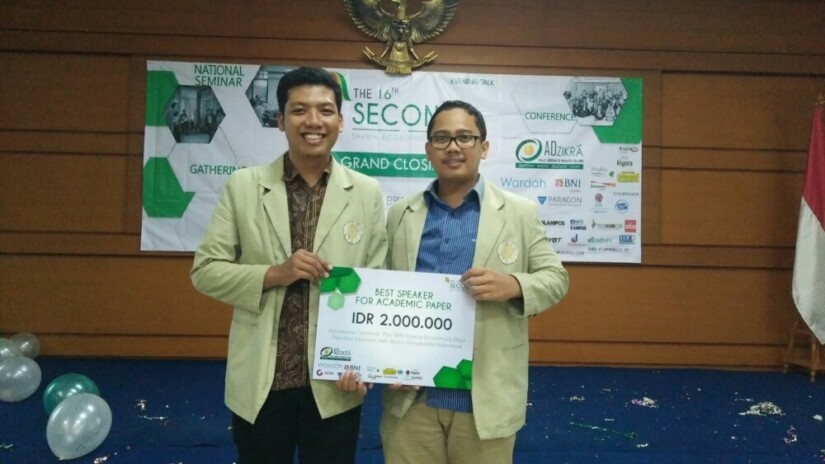 Students of Universitas Gadjah Mada (UGM) have made another achievement. Economic students, Salim Fauzanul Ihsani and Abror Tegar Pradana, became Best Speaker in the Academic Paper in the 16th Sharia Economics Days Conference (SECOND 2017), hosted by Faculty of Economics and Business Universitas Indonesia.
SECOND is an annual scientific meeting of Islamic economy in Indonesia. This year it has the theme Excavating the Potency of Islamic Economics to Achieve Sustainable Development Goals. The theme is divided into two categories, namely Academic Paper and Innovation Paper. The committee chose ten papers of each category. The selected papers are later presented to the juries of SECOND 2017. These papers come from Universitas Indonesia, Universitas Gadjah Mada, Universitas Padjajaran, UPI, UMY, Universitas Airlangga, STIE Tazkia, and Universitas Jenderal Soedirman.
Salim and Abror, joining the Alquds Economists team, wrote their paper entitled Analysis of Effectivity of Tobacco Tax Policy as Disincentive for Tobacco Consumption among Underpriviledged Households in Indonesia. The Alquds Economists team offers new ways for research into Islamic economy whilst most still focus on sharia bank, zakat, and waqf.
Salim and Abror consider other public policy upholding Islamic value can be described as Islamic economy research. Both assess that control of tobacco consumption has significant links to Islamic value and has impacts to meet SDGs.
"Being the best speaker in that competition is an outstanding achievement for us," said Salim on Tuesday (4/4) at Faculty of Economics and Business UGM.