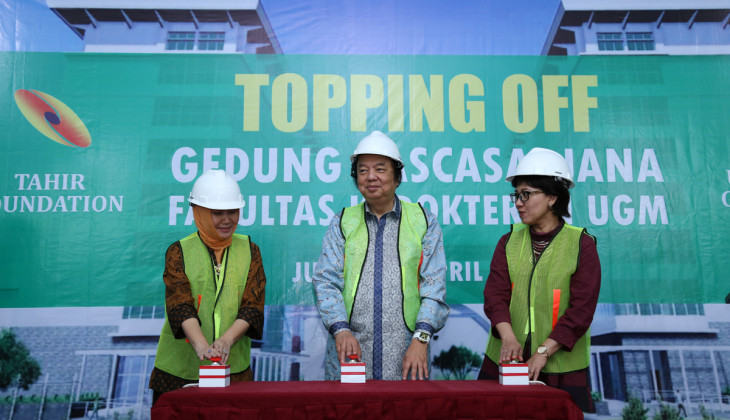 Businessman and philanthropist Dato' Sri Prof. Dr. (HC) Tahir, M.B.A., reportedly would assist funding the UGM student centre as it is not just an ordinary building but can be the icon of UGM students, the people of Yogyakarta, and Indonesia. "I have been mandated to help build the student centre, I think of the building as an icon that is adjusted to the culture and history of UGM," said Tahir when inauguratingTopping off event of the Graduate Building of Faculty of Medicine UGM on Friday (7/4).
Tahir said he had been offered by the university to help build the building. He agreed on it and asked for a re-design so that the building can be the real icon of UGM students and Yogyakarta. "I've asked for a re-designing of the building and asked for help from a renown designer that had built an iconic building in Seoul, South Korea," he said.
It isplanned that the design would finish end of this year so that construction work can start. He wanted to have a grand opera theater in it for student performance venue. "After the design has been finished at the end of this year, I hope the construction work can start right away. The building would be the icon of Jogja and also Indonesia as it holds a theater building that can be utilised for international class performance," he said.
Previously, Tahir had assisted the construction of Graduate Building of Faculty of Medicine through the Yayasan Tahir Foundation. The two tower building has eight floors on an area measuring 10 thousand meter square.
Rector of UGM, Prof. Ir. Dwikorita Karnawati, M.Sc., Ph.D., extended gratitude and appreciation to Tahir that has contributed and supported the progress of education at UGM.
The Rector said the Graduate Building built by Tahir Foudation had been appreciated by Japan International Cooperation Agency (JICA) as the best building construction in Indonesia in terms of quality. JICA representatives made this statement after witnessing the construction to be made the reference for building 9 innovation centres at UGM. "The building will not only generate innovation culture but also nationalism spirit among us on constructions that are developed by the Indonesian people," she said.