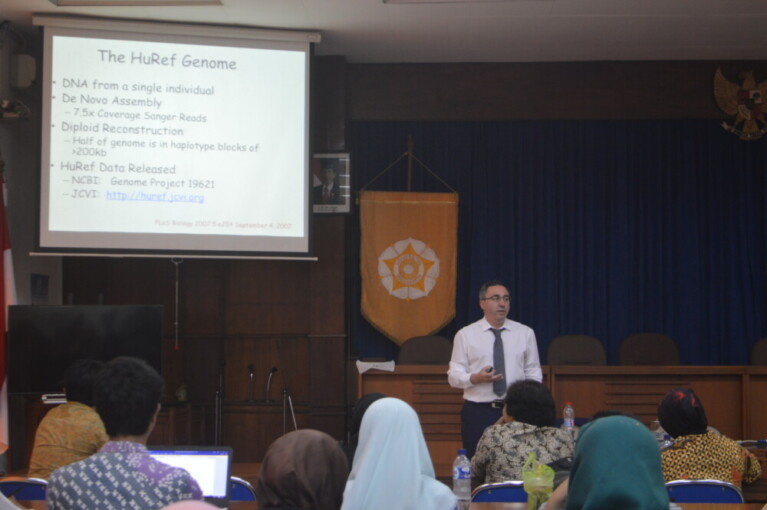 The individual condition is mostly depended on the parents genetic, including their dietary habits. Parents' dietary habit is one of the factors which influence their heredity's genetic.
Prof. Dr. Jose Gutierrez Marcos from School of Life Warwick University UK said the nutrient supply which goes into our body can change DNA and its alteration will be inherited by our children in the form of alteration of DNA's environment or epigenetic.
"The alteration can be seen in the second generation from grandmother to grandchild," said Prof. Jose on Friday (7/4) during a general lecture on Medical Genomic at Faculty of Biology UGM.
Prof. Dr. Jose Gutierrez Marcos who is a molecular and genetic biology expert gave an example of uncontrolled dietary habit during a gestation such as consuming lots of sugar and calories which can affect her child by giving a diabetes risk. This dietary habit also increases her grandchild's diabetes risk up to four times higher.
"Our recent dietary habit or nutrient supply will affect our grandchild's genetic. If grandmother and parents have an unhealthy dietary habit, her grandchild has a risk of suffering various disease," said the visiting Professor.
In front of dozens of Biological Undergraduate and Post-graduate students, Jose also gave a lecture on the genome research development which brings many alterations in life, including in biomedical. The research is not only beneficial for disease treatment but also disease prevention by identifying the emergence risk of various diseases.
"By studying human genome, we can identify the risk of disease, inheritable disease, response to medicine, family relation, human evolution history, etc.," he added.
Meanwhile, Dean of Faculty of Biology UGM, Budi S. Daryono, M.Agr.Sc., Ph.D. said this general lecture is a good opportunity for Biological academicians to study a new subject regarding medical genome, besides studying genetic and epigenetic. In the occasion, he also opens a cooperation opportunity with Warwick University on the development of Biology.