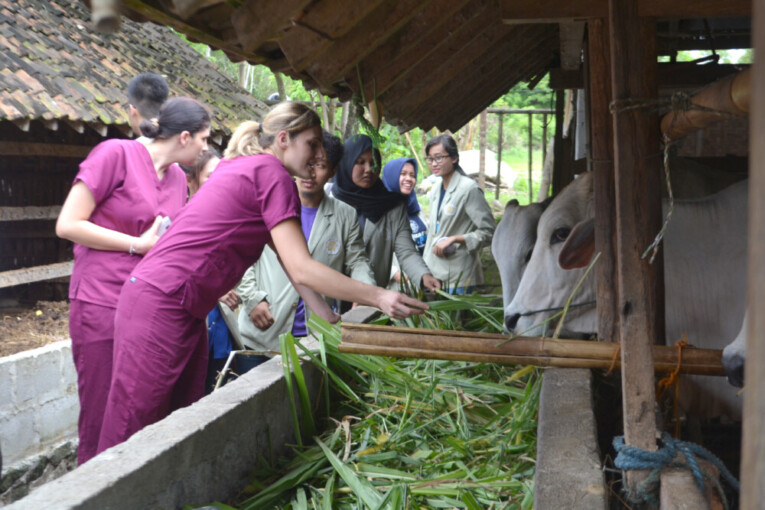 Students team of Faculty of Medicine Universitas Gadjah Mada (UGM) succeeded to be the winner of education video category in a national scientific competition, Scripta Research Festival 2017, which was held from February 3 until February 7, 2017 at Universitas Sumatera Utara (North Sumatra University).
The team consisted of Annisa Nurul Pratiwi S., Aulia Sigra Galayudha, and Rachmat Aldhi Wijayanto. They became the winner after presenting their education video entitled Let's Recognize PCV Vaccine to Prevent Pneumonia in Children.
Annisa said this competition was attended by as many as 57 teams coming from various universities in Indonesia. All of them competed in five categories which were education video, scientific essay, literature review, research paper, and public poster.
"At the final stage, we presented our education video on the importance of PCV (Pneumococcal Conjugate Vaccine) for children. We are grateful our video was selected to be the best one," said Annisa on Tuesday (11/4) at Faculty of Medicine UGM.
Regarding their video, Annisa said Pneumococcal Conjugate Vaccine (PCV) is essential to prevent pneumonia or lung infection in children. This vaccine is used to stimulate the formation of immunity against the infection of Streptococcus Pneumoniae or Pneumococcus germs which can spread through the air. Therefore, the pneumonia vaccine can protect children from Invasive Pneumococcal Disease (IPD), including brain lining inflammation, bacteria infection in the blood, and pneumonia.
"Invasive Pneumococcal Disease (IPD) is very dangerous because the Pneumococcus germs can spread out through blood circulation and broaden the infection range. The symptoms are high fever, chills, hypotension, and loss of consciousness, and can lead to a coma," she explained.
Annisa further explained the Pneumococcal Conjugate Vaccine has to be given gradually since children age 2 months, 4 months, and 6 months. It can be given again when they are 12 until 15 months old. This vaccine is also essential to be given to the elderly who are more than 65 years old, and 2 years old children or older children who have a high risk of IPD, HIV/AIDS, and immunocompetent, as well as 2 until 5 years old healthy children.
Besides giving a vaccine, it is essential to keep the children hygiene to prevent pneumonia and IPD. Moreover, we have to keep our children away from people who suffer from these kinds of disease.