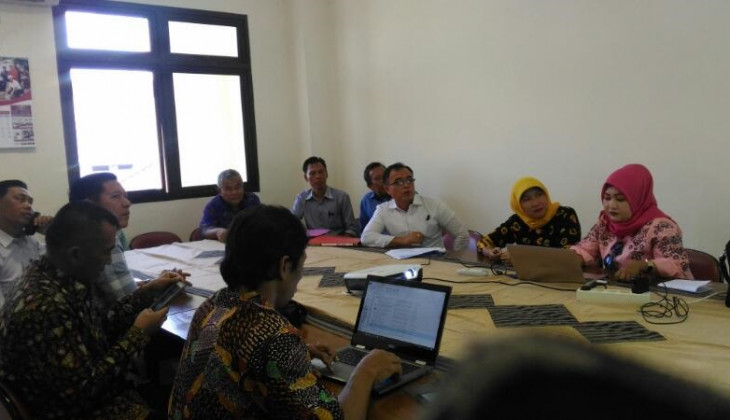 Faculty of Animal Sciences UGM hosts a workshop with UGM's Agrocluster on Tuesday (11/4) at the Faculty's office. It has the target to have a collaboration with the regional government of South Bengkulu regency, Bengkulu province. The delegates from South Bengkulu regency were led by Deputy Regent, Gusman Mulyadi, SE, MM.
Vice-Dean for Research and Community Service of the Faculty's, Bambang Suwignyo, M.P, Ph.D., said the event was a follow-up to the cooperation initiative since last year between the two parties.
"Cooperation assessment has been done in advance and formulated in an MoU in May 2016," said Bambang.
He added one of the forms of cooperation to be conducted is through the Student Community service programme in South Bengkulu. Faculty of Animal Sciences UGM facilitates the meeting between the Vice-Regent and UGM students to prepare the students prior to the community service.
"There is still much unexplored potential from South Bengkulu and this (collaboration) is an initial step towards concrete collaborations with UGM," he said.
Attending the event were 23 staff from South Bengkulu, heads of departments of the Faculty, including Prof. Dr. Ir. Kustantinah, Dr. Ir. Edi Suryanto, Dr. Ir Tety Hartatik, and Dr. Ir. Setiyono. Also seen in attendance from agrocluster were Prof. Dr. Ir Eni Hermayani (Dean of Faculty of Agrcultural Technology UGM), Prof. Dr. Ir. Ahmadi Priyatmaja (head of cooperation from Faculty of Agriculture UGM), Dr. Sri Rahayu, MP (Vice-Dean of Faculty of Agricultural Technology), Dr. Ali Imron, MP (Vice-Dean of Faculty of Forestry UGM), Dr. Priyono Suryanto, M.Sc (Head of Department at Faculty of Forestry), Dr. drh. Agung Budiyanto, MP and Dr. drh. Rini Widayanti (Vice-Dean of Faculty of Veterinary Sciences UGM).