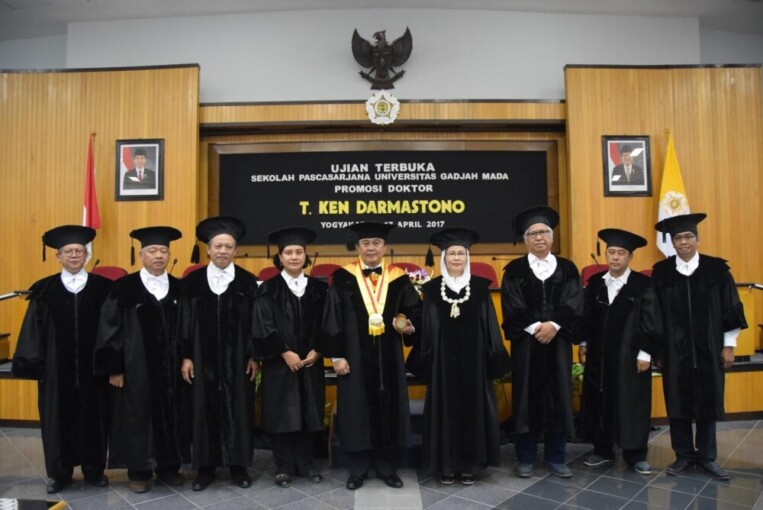 Chairman of Technology Academy of Adisutjipto Yogyakarta, Marshall (Ret.) T. Ken Darmastono, has earned doctoral degree from Universitas Gadjah Mada (UGM) on Monday (17/4) in the discipline of Culture and Media Studies of the UGM Multidisciplinary Graduate School (SPs LD).
Ken Darmastono defended his dissertation entitled Production of Social Space for Spatial Geostrategy at Borders Area with promoter, Prof. Dr. Faruk and Dr. Wening Udasmoro, DEA., M.Hum. Researching into the maritime border case between Indonesia and Singapore, namely, Batam island, he described that Batam became an abstract space that had purposedly been built by the state to be an international industrial and trade area. It was built in the framework of homogenous space that centres on the interest of the state economy.
"As it is built by the government, the construction and development of Batam relies heavily on the national political developments," he said.
Ken Darmastono described the government wanted to assign Batam as an industrial zone that can compete with Singapore in order to support the national economy. On the other hand, however, the government relies on the investment increase from multinational corporations, including from Singapore. The weak bargaining position of the government among investors made the concept changing in terms of representative spatial dimensions.
Batam spatial arrangement as an industrial area is not interpreted as an area bound by trade binds by the residents who are getting more heterogenous, but an area inhabited by the same ethnic group and solidarity. Along the lines, urban criminal space also develops, which is considered as the underground that is built underneath the official space of government and trade.
In his opinion, the tendency on the representational space is made possible due to the different perceptions on space, competitive perception, and negotiation, not only between civilian groups and government conception, but also between society groups themselves.
"The making of spatial geostrategy calls for the opinion of the residents, who account for 1.2 million. This is different from the early formation of Batam when the population was relatively low," he said.
Seeing this condition, Ken Darmastono submitted recommendation on the spatial geostrategy of Batam. He said the ideal location for developing similar area is along the Sea Lines of Indonesian Archipelago (ALKI). Batam lies on ALKI I on the west of Indonesia. In line with the allocation of ALKI for international trade, in Ken Darmastono's views, the special economy areas that have the model similar to that of Batam should also be in the ALKI area, whether in I,II, or III zones.