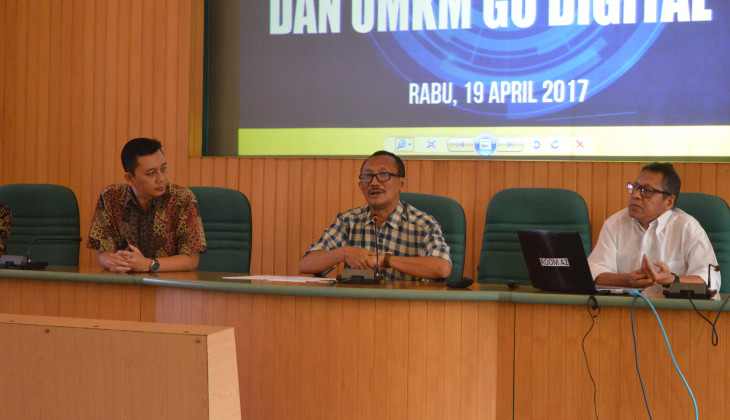 Trading process in the middle of the digital era has been transforming into the digital market. The utilization of telecommunication technology as a marketing and transaction media with the consumers has become a culture and trend in the modern market system, including mass utilization of online payment system. Realizing this condition, Directorate of Community Service UGM held a workshop entitled Towards Smart and Go Digital Micro Industry on Wednesday (19/4) at UGM main office. This event became a meeting and refreshment facility for micro industry businessman, particularly those who have been supervised by UGM.
"There is an assumption saying that people who flourish are those that live near the capital city because the markets are in there. Fortunately, we can use digital technology to perform marketing these days. Therefore, we encourage the micro industry to go digital," said the Director of Directorate of Community Service UGM, Ir. Irfan Dwidya Prijambada, M.Eng., Ph.D. during the workshop opening.
Since 2013, UGM has started training series for developing the micro industry by socialization on packing, labeling, marketing, until digital technology utilization aspects. The main challenge faced by the micro industry is how to get a wide open market. In this open market era, a business cannot survive if it does not enhance its product and service quality.
In the workshop, UGM invited dozens of participants consisting of micro industry businessmen from Wanurejo Village, Borobudur, Karang Tengah Village, and Imogiri in Yogyakarta, as well as 4 other villages in Klaten which are Jomboran, Krakitan, Jimbung, and Bugisan. Through this event, the participants received knowledge about an innovative and competitive product quality enhancement technique, how to establish business network, how to access fund easily, as well as the utilization of online media such as Android apps to conduct marketing and transaction process with consumers.
"We will teach how they can sell their product via Android and on payment process. We are asked by Ministry of State-Owned Enterprise to develop villages around Borobudur and supervise them on how to make an Android based online booking as an example," said Irfan.
Besides giving training, UGM also maintains the sustainability of this program by deploying Community Service students to supervise the micro industry businessmen who had been trained before.
"The applications are ready and we give them the training to understand, while the details will be described by Community Service students who supervise them directly in the location," he added.
He hopes this event can encourage the micro industry businessmen to develop their capacity and business in order to broaden their marketing network and enhance their welfare.
"Digital technology can open the markets via the internet which can reach the whole world. We have the experts who are ready to help the businessmen. I hope our products can reach the whole world and the results can be obtained in a short time," said Irfan.