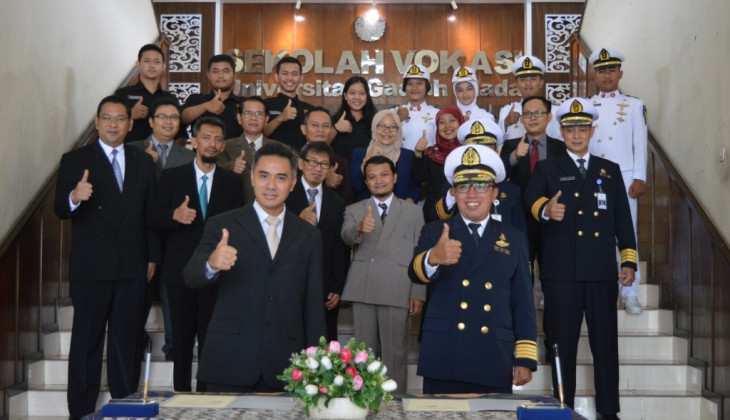 Mechanical Engineering Department in Vocational School UGM opens marine engineering interest study under Management and Maintenance of Heavy Equipment diploma programme. It is opened after an agreement with Marine Engineering Polytechnic of Semarang (PIP) for the purpose of preparing skilled marine human resource.
"The government's Nawacita programme highlights the sea axis or sea tolls vision that links the state regions, which is yet to be explored. A synergy is thus needed between parties to produce maritime human resource that can compete internationally," said Dean of Vocational School UGM, Wikan Sakarinto, S.T., M.Sc., Ph.D., after the signing of the agreement between the two parties on Friday (21/4) at Vocational School UGM.
Wikan said this programme opening was a follow-up to the agreement between Transport Ministry on education, research, and community service and human resource development, technology, and management in transportation last January. This cooperation, he said, was a breakthrough that has been awaited by the government to support long term national development.
Head of Mechanical Engineering Department, Lilik Dwi Setyana, S.T., M.T., said the students of this interest study would do courses at both UGM and PIP campuses as well as field practice on the ship. The 4 first semesters will be spent at UGM to learn basic science of mechanical engineering and heavy machines maintenance. In the fifth semester they will learn special subjects of marine engineering at PIP. The sixth and seventh semesters will see the students on the ship before final assignments and student community service.
PIP's Head of Academic Administration, Capt. Sidrotul Muntaha, M.Si., M.Mar., said the students would receive competence certificates at the end of the study.
Meanwhile, job opportunity for graduates is open wide as they can work at international companies whilst visiting countries of the world. It was described that people interested in the interest study can apply under either independent test or special written test at Vocational School UGM.