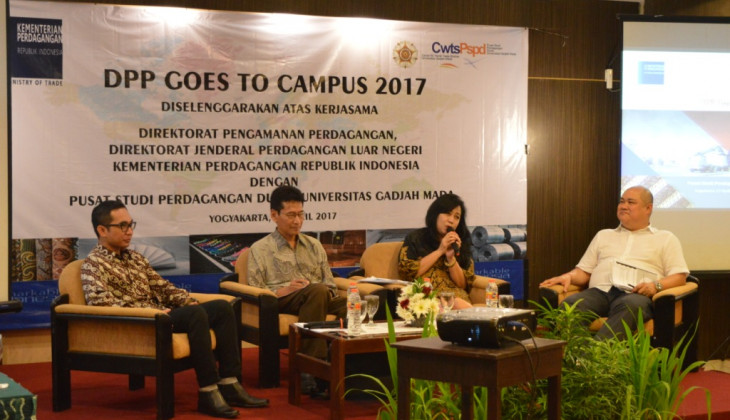 In the past few years there has been an increase in the use of trade remedies instrument significantly in world trade. Trade Protection Director (DPP) in Trade Ministry, Pradnyawati, called this trend as a condition that can jeopardise Indonesia's exports.
"Indonesia's export are in jeopardy. We have to take precautions against the trend in the use of trade remedy," she said during the DPP Goes to Campus event of Thursday (27/4) in University Club UGM.
In the event which is a collaboration between DPP and World Trade Centre of Studies (PSPD) UGM, she explained the principle of trade remedy as a trade policy tool that enables the government to take exception acts on the basic principles of the WTO by implementing improvement acts on imports that cause material losses to domestic industry.
She said such protection was done by governments of export target countries if they see a surge in trade of similar goods or goods that are direct competitors to their own, the presence of serious loss or serious threats to loss in the domestic industry. She said this policy was allowed to protect domestic industry. She regretted, however, that Indonesia's exports were not exempt from impacts of use of world instruments that are adopted by trade partners.
She lamented, "Many companies and products of excellence from Indonesia had been put at a loss before by such rules."
Therefore, Trade Ministry is commited to helping all Indonesian export companies that will experience trade protection acts, one of which is by giving advocacy and along with the company to bring the case to an arbitrary agency in the accussing country or bring up the dispute to the WTO should unfair proceedings have taken place. This last point, however, said Pradnya, was still a challenge for the Ministry.
"Since 1995 until 2017, DPP had dealt with 295 dumping, subsidy, and safeguard cases, but unfortunately, there are more that were lost. In Indonesia we still lack of trade lawyers that are competent for international trade matters," said Pradnya.
So, in the DPP Goes to Campus event, she was trying to raise the interest of UGM students in international trade to build their career and make contribution to the national economy.
"We need contributions from the campus and students. We need supports from all elements in the country so that we can come out outstandingly in the world trade, especially in export areas," said Pradnya.
Also present in the event were international trade experts from Faculty of Law UGM, Prof. M. Hawin S.H., LLM., Ph.D., and law practitioners, Erry Bundjamin. Hawin described comparisons between antidumping, counterfailing, and safeguarding in the WTO in the perspective of international law. Meanwhile, Erry explained trade defense instruments in the domain of global trade.