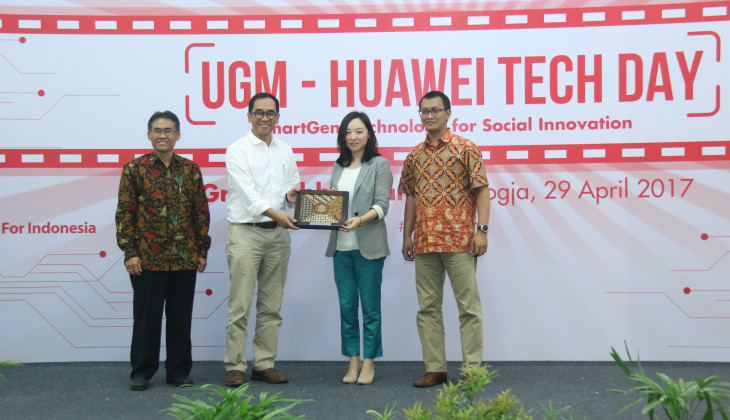 Dean of Faculty of Engineering who is also UGM Rector elect for the 2017-2022 period, Prof. Ir. Panut Mulyono, M.Eng., D.Eng., said UGM encourages cooperation with industry to enhance the student's knowledge and competencies in adapting with the industrial activities. "A good relation between industry and university will give a positive effect for the campus, particularly the students," said Panut during his welcoming speech in a seminar entitled Technology of Social Innovation, Cooperation Between UGM and Huawei Indonesia, on Saturday (29/4) at Grha Sabha Pramana UGM.
According to Panut, the students will be encouraged to conduct an internship in industries before graduating. Through the internship, they learn job and career prospects when they work in a certain industry. "Students can identify the career they can get in the industry," he added.
Furthermore, Panut said UGM will encourage collaborative research with industry in making beneficial products for the society. "If we keep doing this collaborative research, the research in the university can be relevant to the industry and industry is not only conducting research in its laboratory but also in the university," he explained.
Similar statement was also delivered by Vice Rector of Cooperation and Alumnae UGM, Dr. Paripurna Sugarda, S.H., LL.M. He said there is a gap between research by academicians in campus and researcher in industry. Therefore, we need to strengthen our cooperation to reduce the gap. "We will reduce the research gap," said Paripurna.
The Director of Communication and Public Relations of Huawei Indonesia, Selina Wen, said Huawei Indonesia has been building cooperation with 7 universities in Indonesia, including UGM, to develop the student's skill in information and communication technology. "In line with the advanced development of information and communication technology, it can encourage the development of digital economy and innovation in order to encourage economic development," said Selina.