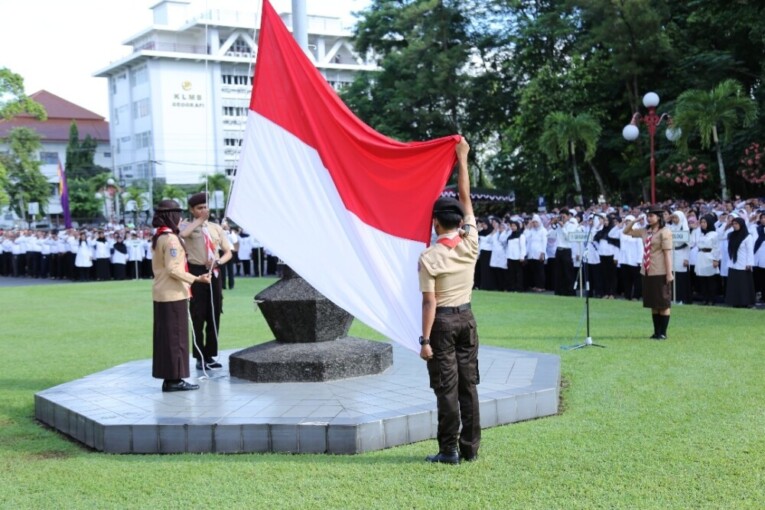 The National Education Day on 2 May is a celebration to remember the service of Indonesian education figure, Ki Hajar Dewantara, and others. For UGM, this celebration is a momentum to look back and re-evaluate its role as the oldest university to advance Indonesian education.
"We celebrate the National Education Day not just to remember Ki Hajar Dewantara, but also to take this as a momentum to reflect on our efforts for education advances, especially in Indonesian higher learning," said Vice-Rector of UGM for Academic and Student Affairs, Prof. dr. Iwan Dwiprahasto, M.Med.Sc., Ph.D., in a ceremony to celebrate the day on Tuesday (2/5) at the courtyard of UGM Main Office.
To hundreds of ceremony participants who are members of UGM academic community, Iwan said higher learning institutions had to pay more attention to the impact of its activity on economic development. This is in line with the theme of the Education Day this year which is to increase higher learning relevance to support economic growth.
"Higher learning can play its part as agent of economic development and welfare, apart from agent of education, research, science and technology," he said.
He mentioned the ways to increase the relevance to support economic growth, which are increasing graduate employability and increasing intellectual contribution through research downstreaming.
"Research should not stop at producing publications, prototype, or patent only, but to also achieve technology readiness level 9, which are put into collaboration with the industry for mass production that can later be used by the wider public," he said.
On community service, he said to increase higher learning relevance can be done through more intensive collaboration between higher learning, government, and industry to resolve real problems among society. Iwan mentioned that the UGM KKN-PPM community service programme is one of the main driving forces to meet this goal.
"KKN-PPM programme is developed based on the priority of research done at UGM and public needs. The priorities include local wisdom and nationalism based socio-cultural development, community empowerment, empowerment of women and vulnerable groups, environment management, SMEs development, increase in agricultural production, fisheries, forestry, disaster mitigation, etc," Iwan added.
In addition, UGM contribution is made through dispatchment of teacher candidates to remote regencies such as Papua in cooperation with Papua UGM working group and Capacity Development and Cooperation Centre at Faculty of Social and Political Sciences with the regional governments.
According to Iwan, the UGM portfolio has been devised as such based on the mandate of UGM to work for state development and humanity. Going forward, increasing relevance of higher learning is needed with the basic principles to achieve optimum results for the nation.