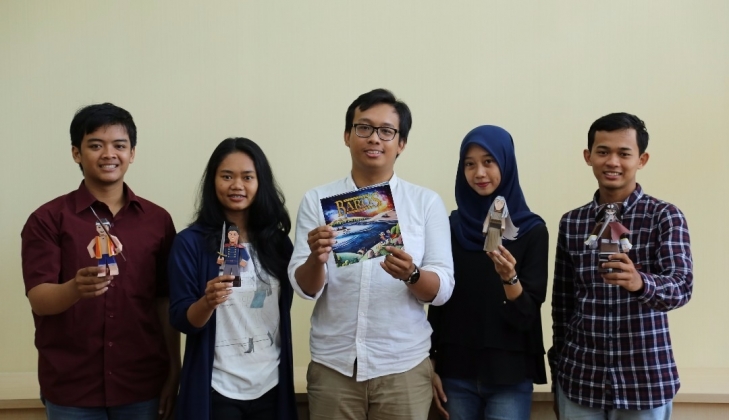 Reading interest among Indonesian people is still low. UNESCO data in 2012 recorded the rate was only 0.001, meaning in every 1,000 people, there is only 1 person has reading interest. While World's Most Literate Nations data in 2016 recorded Indonesia's literacy ranked 60 of 61 countries, above Botswana.
Such condition has triggered a number of Psychology Students UGM to develop a breakthorugh in creating reading interest among children. These student are Sukmo Bayu Suryo Buwono, Ryzki Amelia, Muhammad Abdul Fikri, Hanggara Tri J, and Nava Noorita.
The five students produced a children's book which is supplied with educational toy in the form of papercraft doll. The Archetales book is segmented for children between 7 - 11 years of age.
Chairman of Archetales team developer, Sukmo Bayu Suryo Buwono, said the low reading interest in Indonesia was due to the high rate of TV watching among the people. A BPS survey in 2006 mentioned that television was still the main media for information among people, or 70 %, followed by radio 40%, and book 20%.
"The problem is that our society does not have a good literacy culture. The culture of watching is high among Indonesian people so it weakens the reading and writing interest among the children," said Suryo, on Friday (5/5) at UGM.
They expect that through the book they have produced, they could help develop the children's interest in reading. "Research showed that the lack of interest in book is because there is no interaction with the children. So, we add papercraft dolls to it to make interaction possible. We have developed 20 characters so far," he said.
Ryzki Amelia added currently they just produced one book, the Adventure of Baros in Search of Treasure. It is a legend from Baros, North Tapanuli regency, in North Sumatera Utara. It recounts the adventure of a youth from Baros that wants to search for treasure all the way to Egypt.
"This story teaches the value of hard work and persistence, whilst respecting difference," she added.
The book will be released on 7 May 2017. Order can be placed on instagram/IG: bukusahabatbermain and Whatsapp: 087839110160. It sells Rp55,000. The paper craft dolls is sold separately at Rp15,000 per character.
"For the first 60 buyers, we will give a bonus of 2 papercraft dolls," she said.
The launching of the book supplied with educational toys is expected to raise children's interest in reading, thus increasing national reading interest level.