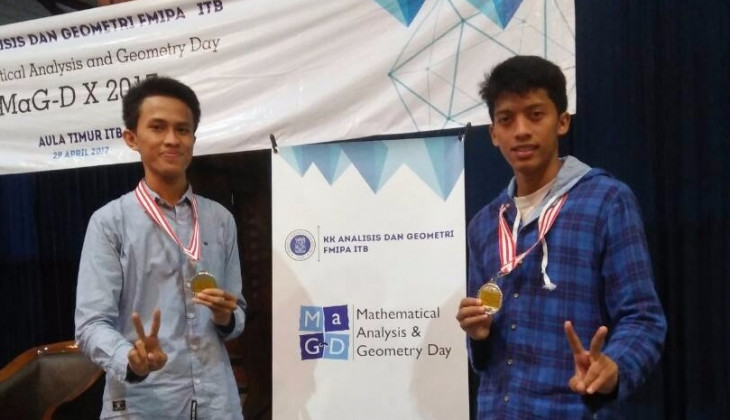 Students of Universitas Gadjah Mada (UGM) earned awards at the Mathematical Analysis and Geometry Day (MAG-D) 2017 competition at Bandung Institute of Technology (ITB) on 29 April 2017 in Bandung, West Java. UGM delegates won the runner-up, consolation prize and 9 medals in individual category.
The runner-up winner team consisted of Muhammad Musta'in and Muhammad Ihsan. The consolation prize was won by Resita Sri Wahyuni and M. Fahruli Wahyujati.
The 4 gold medals were brought home by Resita Sri Wahyuni, Garry Ariel, Muhammad Musta'in, and Muhammad Ihsan. Next, three silver medals were won by Mu'ammar Musa Nurwigantara, Alzimna Badril Umam, and Dani Natanael, while two bronze medals by M. Fahruli Wahyujati and Mufti Al Ummam.
The MAG-D 2017 competition was followed by dozens of universities in Indonesia. Meanwhile, UGM sent 10 delegates that were divided into five teams.
Garry Ariel said in the competition all participants went through two stages of selection, namely elimination and final. In the elimination stage, they did a multiple choice and short essays on calculus, geometry, transformational geometry, complex function and real function. All had to compete individually.
"The best five teams with the accumulated scores from each individual were selected to go to the final," said Garry on Tuesday (9/5) at UGM.
In the final all participants did an essay which was then presented to the panel of judges.
"We were thankful to be the winners and bring home nine medals from this competition. Hopefully, the UGM delegates would be able to have more achievements in the future," he said.