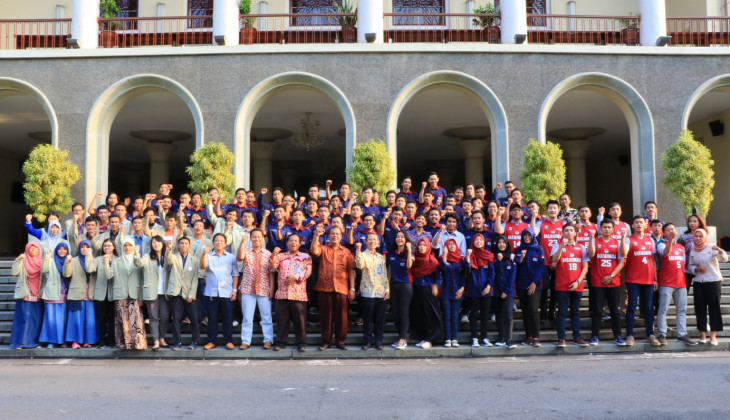 Universitas Gadjah Mada has dispatched student contingents to take part in the robotics contest, ON MIPA Olympiad, and national basket competition on Wednesday (10/5) at the yard of Balairung hall. Head of Student Creativity Unit Sub-directorate, Ahmad Agus Setiawan, S.T., M.Sc., Ph.D., said his office would support all teams to keep their spirit and confidence so that they can make UGM proud nationally.
"We hope those that are dispatched to the competitions can earn good results," said Agus in a release sent out on Friday (12/5).
UGM robotic team, Gadjah Mada Robotic Team (GMRT), joined the Indonesian Robotic Contest (KRI) Regional 3 from 11 – 13 May 2017 at UGM. Chairman of the team, Ahmad Kholid Kartiyoso, said UGM would compete in four categories, Robotic ABU Indonesia contest (KRAI), Fire Extinguisher Robotic contest (KRPAI), Wheeled Robotic Football contest (KRSBI) and Dancing Robotic contest (KRSTI). He said the UGM team had targetted maximum results as UGM happened to be the host. "We hope we can be the grand champion by becoming the host of the robotic contest. The target is three robots to be among Big Three," he said.
Meanwhile, Maths and Natural Sciences Olympiad (ON-MIPA) team, also basket ball team, from UGM will compete nationally from 14 – 17 May 2017 in Semarang, Central Java. The UGM team will be the second largest contingent with 26 students. As many as 24 students have been selected regionally, two were silver medalists at the National Science Olympiad Pertamina that had a wild card to go through to the the national ON-MIPA competition.