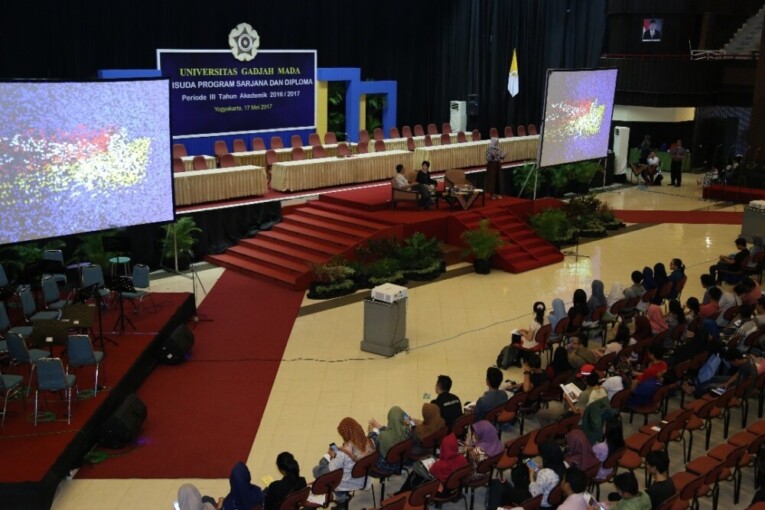 Students delegates of Faculty of Medicine Universitas Gadjah Mada (UGM) succeeded to earn several winner positions in a competition, National Scientific Competition HOLISTIC 2017, which was held from May 11 until 14, 2017, in Universitas Halu Oleo in Southeast Sulawesi.
To this competition, Faculty of Medicine UGM sent five teams to compete in three categories and they succeeded to become the first winner and runner-up in public poster category as well as runner-up in scientific poster category.
The first winner of public poster category was achieved by the team consisting of Annisa Nurul Pratiwi Sudarmadi, Shofuro Hasana, and Aisyah Amieni for their poster entitled Recognizing Hypothyroid Symptoms in Children by MUDAH. Meanwhile, the runner-up of the same category was achieved by the team consisting of Fiska Nur Aini, Ni Putu Ayu Noviyantini, and Fatimah Putri Rahayu for their poster entitled Preventing Coronary Heart Disease by CERMAT. The runner-up of scientific poster category was achieved by the team consisting of Aulia Sigra Galayudha, Rachmat Aldhi Wijayanto, and Firdian Makrufardi for their poster entitled Onion Allicin Effect (Allium sativum) in Preventing Coronary Heart Disease Progression.
Annisa Nurul Pratiwi said this competition was attended by 71 participants from 16 universities in Indonesia, who were divided into 30 teams. The universities are Universitas Gadjah Mada, Universitas Indonesia, Universitas Brawijaya, Universitas Diponegoro, Universitas Airlangga, Universitas Andalas, Universitas Udayana, and Universitas Halu Oleo.
"Each team competed in the event by presenting their poster in front of the judges," said Annisa on Tuesday (16/5).
Annisa expressed her excitement on their achievements. She hopes it can inspire and motivate other students to make achievements, too.
"I hope UGM students can keep maintaining their position to be the winner and make UGM proud in various national and international competitions," she added.