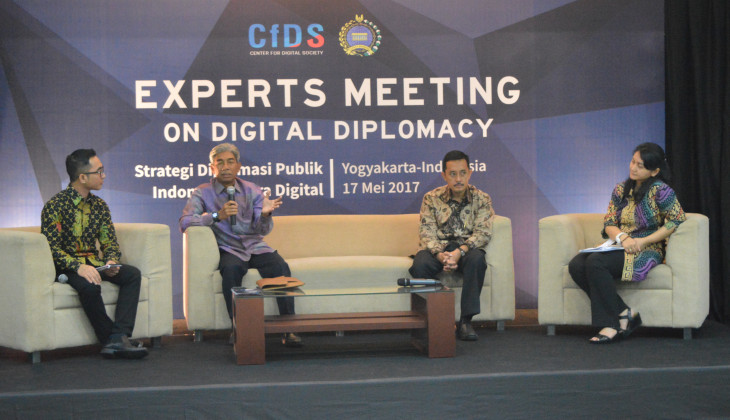 Development in technology and digitalisation have affected human lives in all parts of the world, including in the relations between nations and people. The condition urged the Indonesian government to change the strategy for foreign policy. Deputy Minister of Foreign Affairs, Abdurrahman Mohammad Fachir, said diplomacy work now has to be able to meet global challenges.
"Digital development has created new sources of information and challenges in paradox of plenty. Diplomacy has to be able to grab public information space, thus presenting information quickly, accurately, and rightly, he said on Wednesday (17/5) at Faculty of Social and Political Sciences UGM.
He touched upon this issue during the Experts Meeting on Digital Diplomacy event, a collaboration between Foreign Affairs Ministry and Center for Digital Society (CfDS) of the Faculty. According to Fachir, this event was to reach out to all stakeholders and improve relations as well as collect informative input.
"Currently, everyone can be the actor of foreign policy. Hopefully, when they are doing it, that would comply with the government policy and national laws," he said.
Fachir appreciated the role of UGM that had prepared educated diplomats who would strive for the interest of Indonesia in the world as well as empowering people participation as a whole.
"I wish through all available media we can altogether present our shared interests in economic diplomacy, protection, or sovereignty, as well as our role in the world," said Fachir.
UGM Vice-Rector for Planning, Finance, and Information System, Dr. Didi Achjari, S.E., Akt., M.Com., with the strong multidisciplines background, UGM has comprehensive perspective to resolve existing issues. Also, as a socio-enterpreneurship campus, UGM can contribute to giving innovative and creative solutions through its alumni.
"By a multidisciplinary approach, UGM will support the Ministry to represent the Indonesian government in the protection of society as well as the government policy to maintain the image and sovereignty of the nation, including in the cyber world," said Didi.
The event at the Convention Hall of the Faculty was conducted into plenary and working group sessions. As many as 30 experts in diplomacy and information technology, also over 100 practitioners from among observers, consultants, academics, public figures, and foreign diplomats from friendly countries attended the event.
The result of the sessions was made into a recommendation to be submitted to the Foreign Affairs Ministry for them to draft a policy on the mapping of digital diplomacy policy. This event is expected to engage more diplomats and ambassadors in the future who would make better use of IT to maximise the efforts to meeting the interests of Indonesia in the future.
"We are committed to continuing helping resolve problems, particularly on digital society. Hopefully, the output of this event would be a good recommendation for government strategic policy," said Vice-Dean for Cooperation, Alumni, and Research, Dr. Poppy Sulistyaning Winanti, M.P.P, M.Sc.