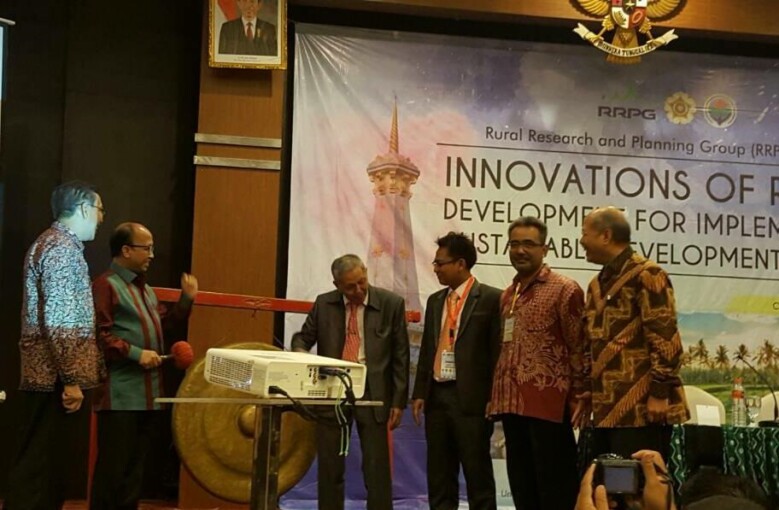 The 8th Rural Research and Planning Group (RRPG) International Conference and Field Study as well as BUMDES Expo were held from 16-17 May at Universitas Gadjah Mada (UGM) Centre for Rural and Regional Studies. It was a cooperation between Development Geography Department of Faculty of Geography and UGM Community Service Directorate.
Conference Chair of the RRPG, Prof. Dr. M. Baiquni, said the event also involved rural universities (PERTIDES) Indonesia and rural enterprises (BUMDES) from Srigading, Nglanggeran, and Bugisan villages. The event was themed Innovations of Rural Development for Implementing Sustainable Development Goals (SDGs).
"This theme is very important to discuss because rural development needs to be put in the SDGs framework," said Baiquni Friday (19/5).
Discussions were divided into 12 sub-themes: Sustainable Rural Development, Rural Governance and Policy, Sustainable Agriculture, Migration and Displacement, Rural Natural Resource Management & Spatial Information, Rural Tourism and Regional Development, Rural Planning and Infrastructure, Rural Women and Development, Smart Village & Smart City Innovation and Development, Disaster & Community Resilience and Community Empowerment, Rural Land Management, and Creative Kampongs for Economic Development.
The Seminar was attended by participants from six countries, which are Indonesia, Malaysia, Sri Lanka, Hollands, UK, and Nigeria.
The opening ceremony was done by UGM Vice-Rector for Research and Community Service, Prof. Dr. Suratman, M.Sc., and Dean of Faculty Geography, Prof. Dr. M. Aris Marfai, M.Sc.
Keynote speakers were Secretary General of Rural Affairs, Transmigration and Development Ministry. Also attending the event were Prof. Ir. Hasanuddin Z. Abidin, M.Sc., Head of Geospatial Information Agency, and Prof. Dr. Ibrahim Ngah, Founder Member of RRPG. Several associations supported the event, including Rural Research and Planning Group (RRPG), Indonesian Geography Associaton (IGI), and Association of Indonesian Planning School (ASPI).