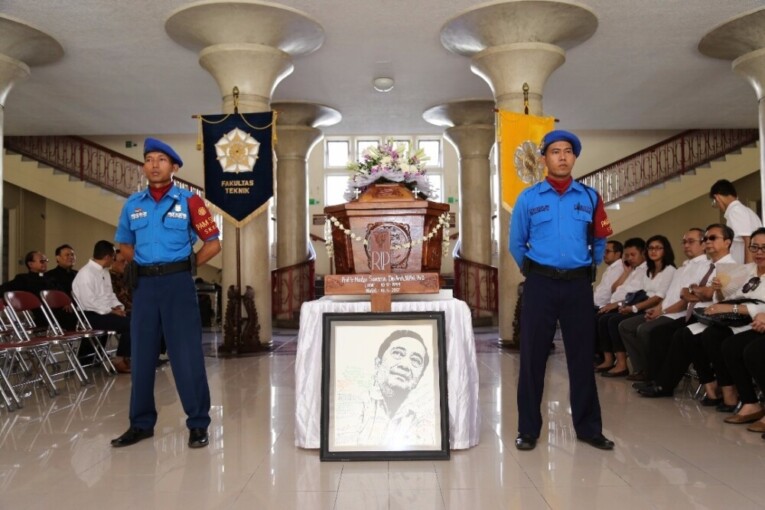 Engineering professor from Universitas Gadjah Mada (UGM), Prof.Ir. Nindyo Soewarno, M.Phil., Ph.D., passed away on Thursday, 18 May 2017 at Bethesda Hospital Yogyakarta. The architecture expert died at the age of 72, leaving his wife and 4 children.
Before his body being buried at the Astana Wirogunan, in Kartosuro, Surakarta city, he was laid to rest at Balairung, UGM Main Office, on Friday (19/5) to receive last respect from members of academic community. Family and friends were also present in this event.
"On behalf of UGM academic community, we extend our deepest condolences to the family of one of the best UGM people in architecture," said Chair of Board of Professors, Prof. Dr. Ir. Putu Sudira, M.Sc., when delivering remarks during the funeral ceremony.
Putu said the late professor had big commitment for UGM and Indonesia. His love for science, expecially architecture, had inspired the birth of architectural research, particularly related to cross-disciplines studies.
He emphasised that science nowadays had progressed rapidly due to its relations with other disciplines. This was observable in his innaugural professorship remarks titled Architecture of the Migrants where he described the architecture of migrants that contained demography, public policy, history, and cultural studies.
"In his service as educator and researcher, he was always consistent in developing a multidisciplinary study. What he had learned and taught are in line with the spirit of UGM that now encourages multidisciplinary research," he said.
Afterwards, Dean of Faculty of Engineering UGM, Prof.Ir. Panut Mulyono, M.Eng., D.Eng., read out the biography of the late professor who started teaching at UGM since 1973 and for once chaired Architecture Graduate programme