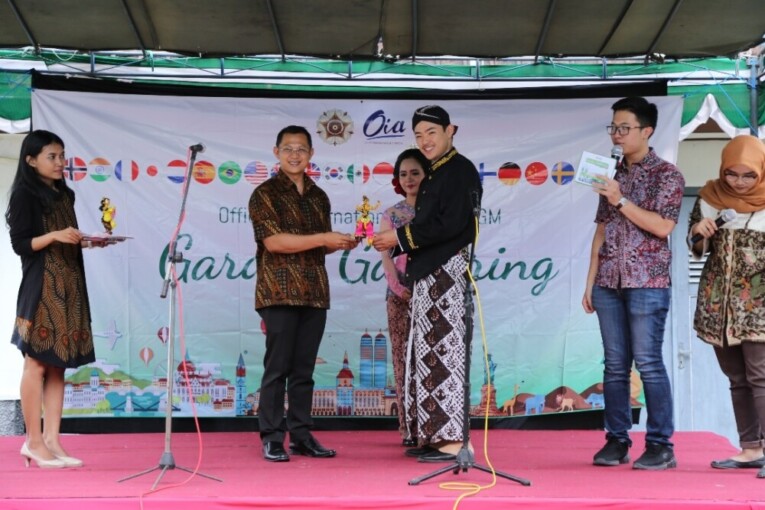 Office of International Affairs (OIA) UGM held Garden Gathering for foreign students, both degree and non-degree students, who study at UGM on Friday (19/5). The event was attended by more than 30 foreign students from various countries. It was purposedly held to strengthen the relationship between international students and OIA UGM as the office which gives them assistance as well as creating a friendly atmosphere for them.
"We encourage the foreign students to not only study in here but also build a friendship. Therefore, this routine agenda will be held several times in a year," said the Head of OIA UGM, I Made Andi Arsana, Ph.D.
Andi said becoming a foreign student in a totally different environment can be a difficult situation. Besides the different cultures, a different academic system can also raise various complicated issues like he had once experienced when he studied in Australia.
"I know the feeling of becoming a foreign student who lives far away from my homeland. But I was very lucky to obtain support from the office of international affairs over there. Therefore, I made a promise when I go back to Indonesia, I will manage the same treatment to make the international students feel being welcomed in Indonesia," he added.
The existence of international students in UGM, according to Andi, is essential for giving an opportunity for UGM students to make interactions with the international students. Therefore, he emphasized the importance of UGM to be a decent host to make them comfortable.
"We are here to be your friend, not only help you in administration. We not only can interact professionally but also as a friend. I hope when you go back to your country, you will feel you have family in Indonesia," said Andi.
Garden Gathering was also enlivened by the traditional dance performance by the Surakarta Style Javanese Art Unit (UKJGS). Besides Indonesian arts performance, the event also became a facilitation for the international students to introduce their cultures. The international atmosphere in the event was increasingly felt by the presence of various interesting culinary prepared by the students from Uganda, Tanzania, and Thailand. (Fiki)