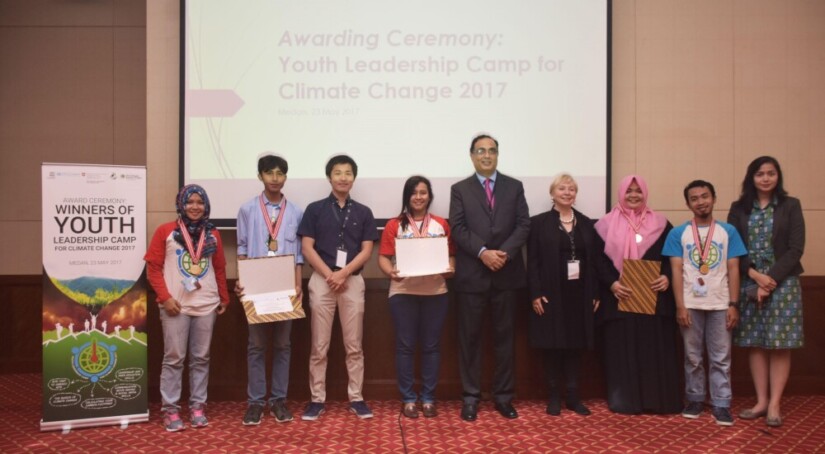 Aditya Pradana, Geography student of UGM, has earned an award at the Youth Leadership Camp for Climate Change 2017, hosted by UNESCO Office Jakarta, UN CC: Learn, The Climate Reality Project Indonesia, and Youth for Climate Change Indonesia. Aditya has earned the Best Delegate of The Camp award.
This award, which is presented for the commitment to the environment and climate change through research and organisational engagement, was presented in Medan from 23-24 May 2017. Aditya is entitled to be the Indonesian delegate at the Tribal Climate Camp 2017, to be held in Seattle, Washington, USA, at the end of July 2017.
"Through the forum of YLCCC, we learned about experiences of collaborating with many people for climate change mitigation and adaptation. In the next Tribal Camp, we hope to be able to develop climate change platform, a sharing program, and research to develop a community that is climate resilient in Dieng Plateau," Aditya said on Friday at UGM (2/6).
The Universitas Gadjah Mada team also earned Team of The Year award in the camp that last from 4-6 February 2017 in Cibodas Biosphere Reserves, West Java. The team consisted of Futuha Helen Sara (Environmental Geography 2014), Aditya Pradana (Environmental Geography 2014), Irvandias Sanjaya (Psychology 2013), Sapnah Rahmawati (Applied Economics 2015), and Noviana Nur Sari (Biology 2014). The award was presented to the UGM team for their dedication and active contribution during the pre-camp, in camp, and post-camp.
The YLCCC 2017 was run to increase awareness among young people about climate change. They can contribute actively through a 3-month post-camp through a peer education forum, climate campaign, and a community program focused on climate change issues.
"The UGM team established the peer education forum program with the theme Disability for Climate Change, which is a campaign on climate change and environmental education for the disabled children in the Bina Siwi orphanage, collaborating with D-Eragon community in April 2017. We hope to be able to have other positive projects for climate change resilience," said Futuha.