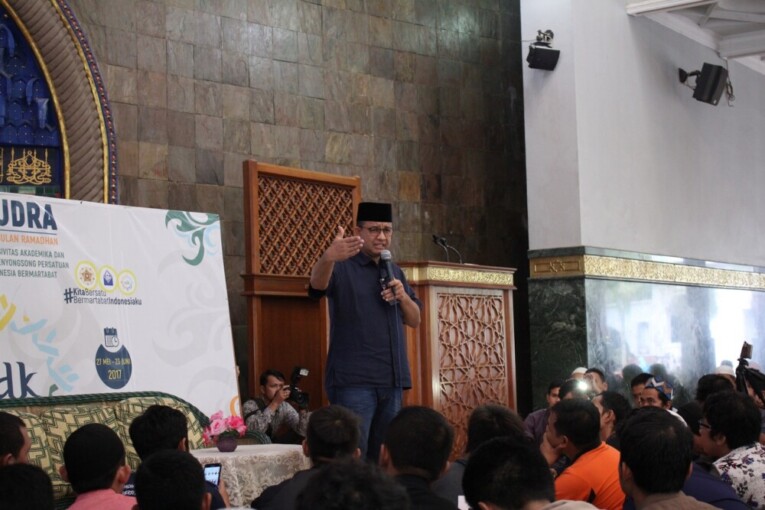 A national dialogue has been conducted at Campus Mosque of Universitas Gadjah Mada (UGM). This is part of a series of UGM Ramadhan on Campus programme 1438 Hijri. raising theme The Awakening of the Youth, the Awakening of Indonesia, presenting a national figure who is also an alumnus of UGM, namely Anies Rasyid Baswedan, Ph.D, on Wednesday (14/6).
According to Anies, the awakening of a nation will only happen if its youth is also awakened. In the past, the awakening in the ability to interpreting the change of time had produced decisions which can only be felt today in the effects they generated.
Anies explained the perspective of the old and the young. He said those were just a matter of number. "If you think about the future, no matter how old you are,you're still young," he said.
According to Anies, there were components of the youth that want to realise the youth awakening process. These are character, literacy, and competence. Young people have two characters, moral character and performance character. Further Anies said that the youth had to be literate. "Do write articles, it can develop your imagination, which we often lack of," he said.
On the competence component, Anies explained the 4C schemes, which are critical thinking, creativity, communication, and collaboration.
Anies asked the young people to anticipate changes and awaken the nation. "The young people have to have high expectation, not just getting relaxed after achieving their dreams, which may not always be too high," he said.