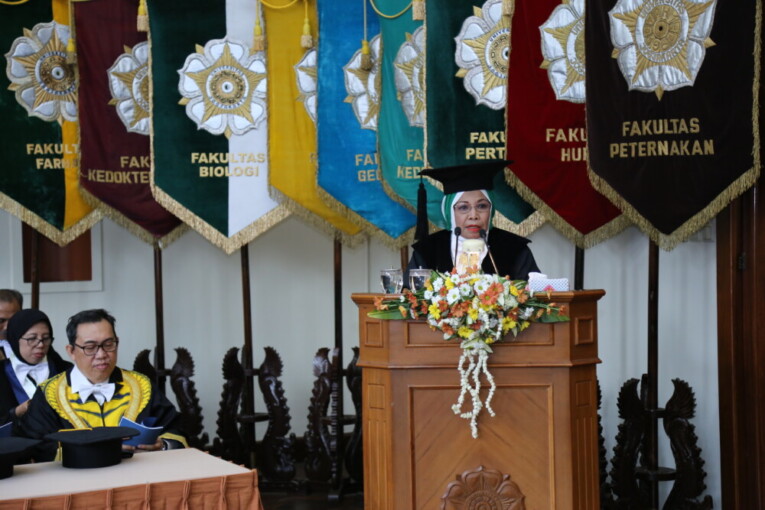 YOGYAKARTA – Constant antibiotic consumption by poultry will leave residual antibiotics in their eggs and meat. This will form microbes which are resistant to antibiotics, hence harming the body. An alternative to antibiotics for poultry is probiotics. Probiotics are good bacteria in the intestines that can produce antibiotics. Probiotics are expected to maintain the health of the chicken's digestion as well as triggering growth, hence producing good, healthy eggs and meat that are free from residual antibiotics.
This was said by Prof. Dr. Ir. Sri Harimurti, S.U., Animal Sciences professor in her inaugural speech for professorship at the UGM Senate Hall on Tuesday (4/7). Sri Harimurti said Faculty of Animal Sciences UGM had been developing probiotics originating from Indonesia for a long time. Sri Harimurti and team found that over 20 poultry strains of lactate acid bacteria that are originating from indonesia consists of three strains that are considered the best, namely Lactobacillus murinus Ar3, Streptococcus thermophilus Kd2 and Pediococcus acidilactici Kp6, each at the same time acting as anti-diarrhea in chicken. "Probiotics have the potential to increase chicken's resistance to Salmonella Pullorum infection and can trigger growth," said the lady born in Yogyakarta on 3 November 1949.
Such findings have been applied in poultry, such as broiler, quail, and ostrich. Based on laboratory research, this probiotic is stated as able to get attached to intestinal epithelial cells and can form a colony in the intestine while the chicken can get prevented from diarrhea that is caused by Salmonella pullorum.
Now the lactate acid probiotics have been encapsulated into powder that is protected in maltodextrin and skimmed milk. The micro-capsule can also improve the performance of broiler's immune system and keeps the digestion healthy.
The probiotics will be tested by the breeders for poultry and will be developed further for industrial scale. "Before being mass-produced, the probiotics will be tested in a pilot plant by breeders," she said.