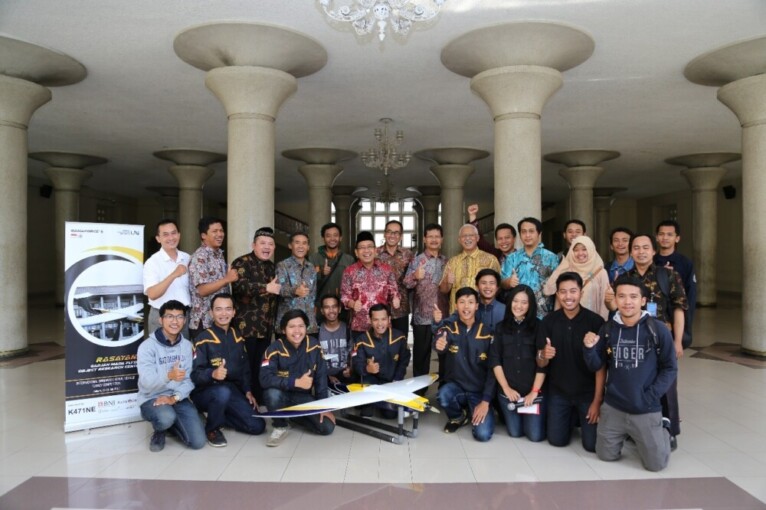 The Gamaforce UGM this year will participate in its first international competition. Two consecutive wins in the Flying Robot Contest Indonesia 2015 and 2016 have propelled them to compete in the international event. The Gamaforce team will compete in the Unmanned Aerial Vehicle(UAV) Turkey Competition 2017 to be held by Turkish Aircraft Industries Corporation (TUSAS) in Kahramankazan, Ankara, from 13-16 July 2017.
UAV Turkey Competition 2017 is an unmanned aerial vehicle competition that is joined by countries in the world. To support the UGM team, Rector of UGM and university leadership symbollicaly released the Gamaforce team on Friday afternoon (7/7) at Balairung UGM.
Gamaforce team chairman, Rifyal Garda, explained it was not easy for them to pass to the rounds in Turkey. Previously, the Gamaforce team had to compete with 400 participants from across the world. They became the only Indonesian team passing up to the last stage and eventually had the chance to demonstrate their unmanned aerial vehicle in Turkey.
Named as Rasayana, the UAV of UGM will compete in Fixed Wing category. Rasayana will be operated remotely using a remote control. Equipped with GPS, it can give images from colours matrix.
"Rasayana has a wide range of coverage, estimatedly it can reach up to 100 km, but until now it is only used to detect matrix and it can fly for 7-10 minutes in the air," said Rifyal.
Meanwhile, Rector of UGM, Prof. Ir. Panut Mulyono, M.Eng., D.Eng., hoped the Gamaforce team could earn optimum results from the competition.
"This competition would be a useful experience for the Gamaforce team," said the Rector.