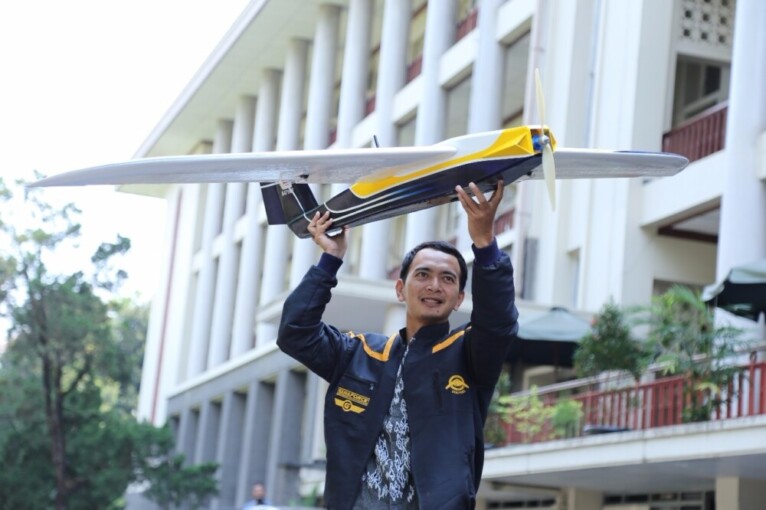 The UGM Gamaforce Team felt panic when learning that one of the main components of their UAV had experienced heavy damage. The problem was that in the next few hours, the vehicle would compete in the Unmanned Aerial Vehicle (UAV) 2017 contest at the Turkish Aircraft Industries Corporation (TUSAS) in Kahramankazan, Ankara.
The Rasayana UAV would compete with 96 other UAVs in the event lasting from 13 to 16 July 2017 in Turkey after it became the sole representative from Indonesia, after beating 400 teams.
"Arriving in the hotel after departing from Indonesia on 12 July, we just learned that the odroid mini PC had been damaged during the long trip to Turkey. And we had to go to the competition the next day," said Gamaforce Team chairman, Rifyal Garda Prabowo, to journalists on Thursday (20/7) at UGM Main Office.
Rifyal Garda said the team worked and thought hard to resolve the problem. They even skipped their night rest. It was a very tough situation, but in the end, the damage could be fixed.
After a long process and going through many challenges, finally Rasayana was able to conquer the Turkish sky. The UAV finished in third place in the prestigious competition.
"It was really tense when fighting for the third place award. We sang the national anthem and the Gadjah Mada hymn to boost our spirit when we were flying the UAV," he said.
The Gamaforce Team consist of 9 Engineering, and Maths and Natural Sciences students: Umar Fadhil Ramadhjan, Ahmad Izudin, M. Syahrul Ramadhan R.W., Ardi Puspa Kartika, Rifyal Garda P., Riarsari Meirani U., Anindityo Agung B., Riswandha Latu D., and Faricha Hidayati. Their supervisors are Gesang Nugroho, S.T., M.T., and Aufaclav Zatu Kusuma Frisky, S.Si., M.Sc.
Rasayana UAV is 1.2 m in length, with a wing span of 2 m, and weighs 3 kg. Made from composite material, it proves its strength when flying.
"During the competition, the wind was pretty strong at 13 knots," he said.
The UAV can also fly low at low speed. Flying at 40 m altitude at 12 m/sec, the challenge was completed in 7-10 minutes. In this event, the UAVs were ordered to fly low at low speed to be able to read images on a matrix.
"Actually, this UAV can fly at up to 100 km/hour for 100 minutes," he added.
Dr. Gesang Nugroho said the achievements of his students had proved that UGM had capabilities equal with those of other more advanced countries. He hoped in the future the government would support UAV development so that unmanned aerial vehicles could be used for territorial mapping and monitoring as well as producing aerial images.