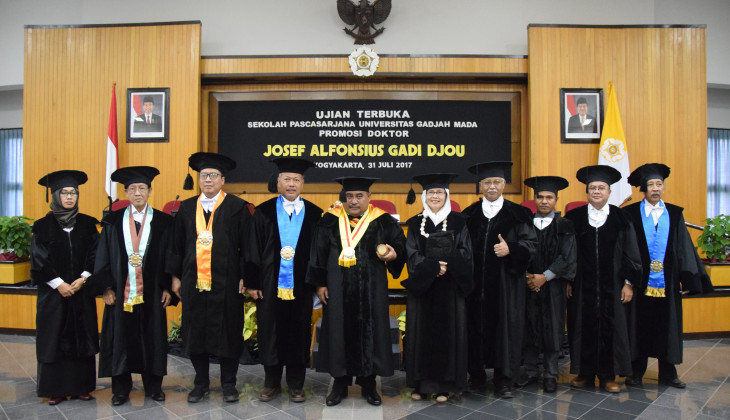 Kelimutu National Park is an ecotourism site that is done through Community Based Tourism (CBT) development. But so far management of the area has not been done optimally, making the progress stagnant.
"There is no change, improvement or increase being made on the ecotourism side of Kelimutu National Park," said Josef Alfonsius Gadi Djou, S.E., M.Si., on Monday (31/7) in his doctoral promotion for Tourism Studies Programme at UGM Graduate School.
The Management lecturer of Faculty of Economics of Universitas Flores said the CBT ecotourism in Kelimutu National Park has not yet reflected ecotourism that is in line with ecotourism principles. As a result, the ecotourism forms that have been realised until now remain stagnant, not developing optimally.
"All kinds of attractions there, whether natural, cultural, or artificial, as well as accesibility and amenity are not progressing. They remain the same as before," he said.
The emergence of this ecotourism is the effect of management that still adopts symbolic participatory mechanism that ignores ecotourism principles, CBT, and sustainable tourism development. This only hampers the development of various available attractions in the park.
In his opinion, this condition brings further impacts to the forms of response from tourists. The majority has yet to feel satisfaction because the attractions are not well maintained, old, and abandoned. Tourists also felt disappointed over the condition of additional facilities that are not serviced, dirty, whilst the growing weeds and garbage in the area make it even more unpleasant. These conditions only strengthened the views that ecotourism principles, CBT, and sustainable tourism development have not been adopted as a reference framework for the management of ecotourism resources.
Seeing this condition, Gadi Djou suggested the need for strengthening local community engagement in planning and managing the ecoutourism. The Park managers need also to immediately implement participatory planning properly, engaging the community for maintenance of attractions.