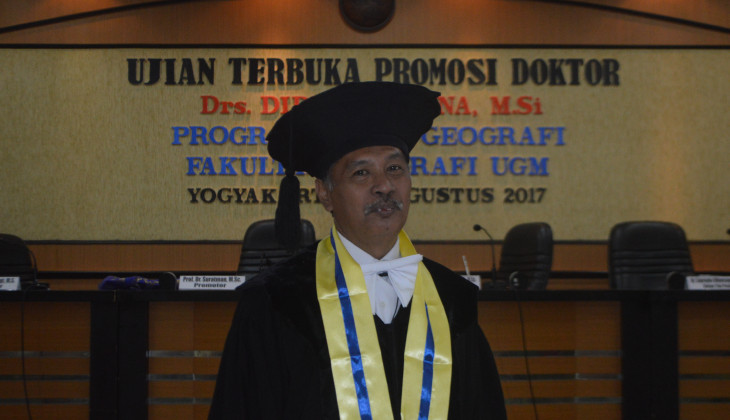 Erosion level in Ngujung sub-drainage basin of Kota Batu, East Java, continues to increase. Forest and plantation conversion has caused this increase.
Data from Directorate General for Land Rehabilitation (RLPS) in 2008 recorded the erosion in Brantas drainage basin that includes Ngujung sub-drainage basin accounted for 118.608 tonnes/ha/year. The permitted rate of erosion is just 13.23 tonnes/ha/year so the erosion index was at 88.2%.
"The drainage basin will get critical if land conversion is uncontrolled while land cultivation is not done appropriately, such as growing carrot, broccoli, and cabbage on plots that are aligned with the slopes," said Geography lecturer at Universitas Negeri Malang, Drs.Didik Taryana, M.Si., on Tuesday (15/8) in his doctoral promotion at Faculty of Geography UGM.
According to Didik, erosion rate control that needs to be done includes the application of predictive model of spatial or temporal erosion rate. This is important to do to know the plot which contributes greatly to the erosion.
Doing research into erosion rate predictions in Ngujung sub-drainage basin that adopts WEPP model, Didik found the fact that the greatest spatial erosion prediction in the land unit of V2/Andisol/III/KBN amounts to 91.25 tonnes/ha/year with plant patterns of carrot, broccoli, cabbage. In land unit of V3/Andisol/IV/SMK it stays at 39.52 tonnes/ha/year with the plant patterns of broccoli, cabbage, broccoli. In land unit of V3/Andisol/III/SMK at 27.15 ton/ha/year with plant patterns of corn, brassica, cassava, corn.
Didik mentioned temporally the greatest erosion rate occurs from January to June. The plants that have high erosion trends include broccoli, carrot, cabbage, and brassica.
"Integration of erosion rate with growing patterns, plant types, and land cultivation, and implementation of spatial arrangement can help reduce erosion rates down to the permitted level," he said.