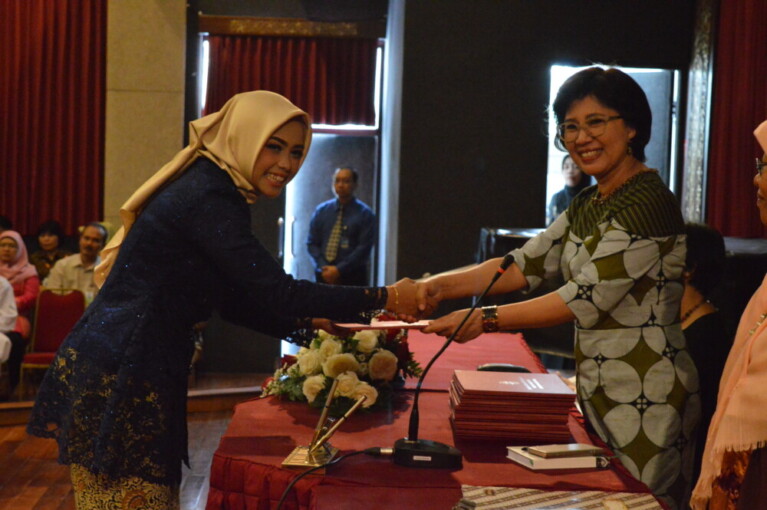 The late Prof.Dr. Umar Anggara Jenie, M.Sc., Apt., was one of UGM researchers that had contributed much to science in Indonesia, particularly in bioethics. He had also encouraged the development of strategic research.
Born in Solo, Central Java, on 22 August 1950 and became professor in Organic Medicinal Chemistry at UGM, Umar was a visionary researcher, upholding ethics but also a humanist. Once UGM Vice-Rector for Research, he also became Head of Indonesian Scientific Institute (LIPI), Vice President of the Asian Bioethics Association (ABA), member of Indonesian Scientific Academy (AIPI), and Chairman of National Bioethics Commission(KBN). Umar died on 26 January 2017 in his house in Condong Catur area, Yogyakarta.
To actualise the thoughts of Umar Anggara Jenie, Faculty of Pharmacy UGM hosts a national seminar themed Building Dignified Science and Technology: Ethos, Ethics, and Strategy on Monday (21/8) in the Senate Hall UGM. The seminar presented keynote speaker, Dr. Laksana Tri Handoko, M.Sc., Deputy Head of LIPI. Also attended the event family of Prof. Umar, representatives from AIPI, and Chairman of UGM Alumni Association (KAGAMA).
Dr. Laksana said one thought of Umar Anggara Jenie to remember was the importance of increasing human resource to produce high qualification research. They need to produce significant research which is published in global journals or produce applicable patents.
"Prof. Umar once said that LIPI was an academic institute for researchers, particularly in biotechnology. At that time LIPI had not served as it should, but he hoped LIPI would be able to have a global reputation," he said.
On how research can contribute to the state, Handoko described the need for ethos in research while to realise noble science and technology would need increased contributions through research activities.
AIPI representatives , Prof. Dr.dr.Sofia Mubarika, said Umar Anggara Jenie was a genuine scientist and a hard worker that always sticks to ethics and rules but also a humanist.
"Prof. Umar had the strong will to advance science that is ethical and visionary. He dreamed of Indonesia to be able to compete globally with its science," she said.
Kagama chairman, Dr.Ir. Haryadi Himawan, explained the contribution from Umar Anggara Jenie in science development. Haryadi appreciated his visionary views and thus it is necessary to follow up the thoughts for the progress of science and the nation.
Similarly, UGM Vice-Rector for Human Resource and Assets, Prof.Dr.Ir. Bambang Agus Kironoto, said Umar Anggara Jenie was an outstanding individual and highly competent that we need to explore his thoughts deeper.