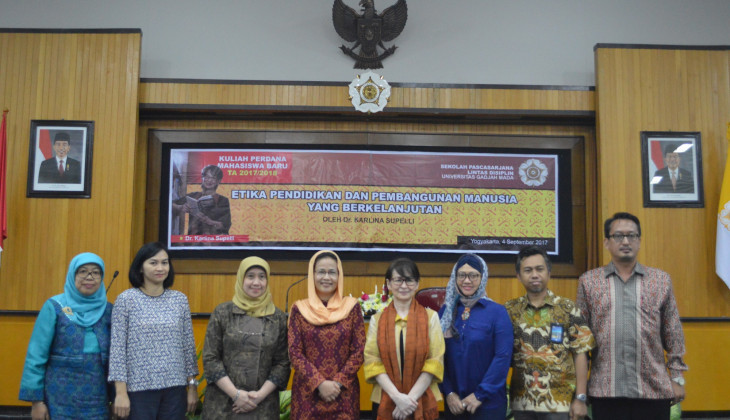 UGM Graduate School conducted first lecture for new students for the 2017/2018 academic year in the Auditorium of the School on Monday (4/9). Dr. Karlina Suppeli, lecturer from Driyarkara Philosophy School, Jakarta, was invited to give a lecture themed Ethics of Education and Sustainable Human Development.
Karlina Supelli said by studying at the graduate level, the students are faced with challenges and problems while they are expected to give a response. The challenge include ethical problem at higher learning, ethical dimension of education which consists of ethics of academic life and intellectual virtues as well as life-long learner.
Related to ethical problems at higher learning, said Karlina Supelli, the academic community faced problems such as corruption. Corruption is likely to happen here such as administrative corruption, academic corruption, and service corruption.
The causes of corruption at higher learning, continued Karlina, are varied. But these all happen due to the weak awareness of academic integrity.
"These are not easy to eradicate, obviously. But they all are due to the weak awareness that corruption would damage common lives, bribery is seen as normal, or fear to report a case, on the other hand there is social apathy, etc," she added.
Citing founding father Mohammad Hatta, Karlina said the main goal of higher learning is to build ethical and democratic human beings that are aware of their responsibilites for national and global welfare. So, the main goal of higher learning is on character building.
Prof. Ir. Siti Malkhamah, M.Sc., Ph.D, Dean of UGM Graduate School, said for the good completion of their studies, the students need to comply with existing rules and guidelines. In addition, to have a command of English language, they have the opportunity to learn for a maximum of three months in the initial stage of study," she said.
"The students can improve their English through a special test run by the university or other test institutes acknowledged by the university," she concluded.