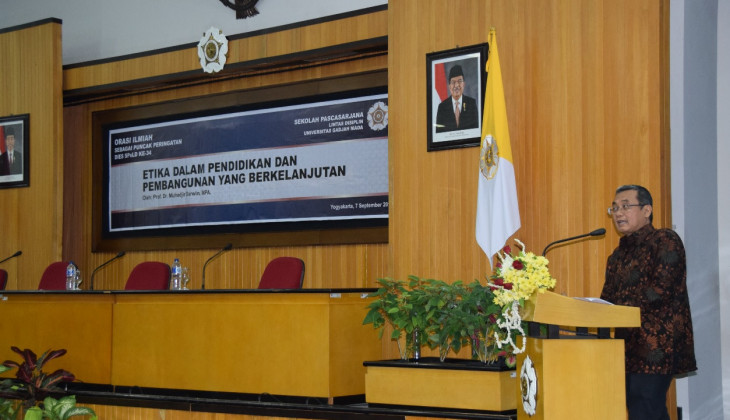 Learn as much as you can. But once you are educated, don't act like you're the smartest, nor don't get tempted. Becoming smart or intelligent is the goal of learning or studying.
"There are three Javanese terms that need to be elaborated here, which is smart, feeling the smartest, and tempting," said Prof. Dr. Muhadjir Darwin, MPA, in the Auditorium of UGM Graduate School on Thursday (7/9) when delivering a scientific remarks titled Ethics in Education and Sustainable Development.
According to Muhadjir, becoming smart, or intelligent is the goal of learning or studying. Smart relates to intelligence, sharpness of logic, and vast knowledge and skills of someone. Acting the smartest relates to the attitude of a smart person on his own intelligence and his relations with the surroundings. Smart someone is considered as acting smart when he is arrogant with his intelligence and considers himself the smartest while others are stupid.
"Towards other people, he will act as if way better, underestimating, or even harming, direspecting, not giving benefit to others," he said.
So, Muhadjir said, if due to intelligence someone is acting the smartest, disrespecting and not benefitting others, here lies problems of ethics. There are important social values in living among the society that are ignored.
"Those values that are ignored are low profile quality," he told the new students of UGM Graduate School.
Other values that are ignored are beneficial value. The degree that has been earned has to be beneficial instead of harming others.
For this purpose the UGM Graduate School wants to uphold ethics in its education system, not just to produce smart scholars but also ones that have social mind, sensitive or care about problems that affect other people or society.
"With their intelligence, a graduate scholar can shine a light to their surrounding, making other people smart too and progressing. Here lies the relevance of sustainable development," he concluded.