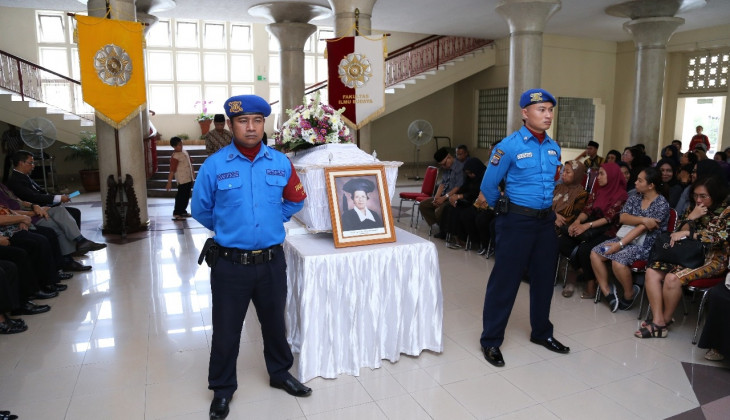 Archeology professor of Universitas Gadjah Mada (UGM), Prof. Dr. Sumijati Atmosudiro, passed away on Friday (8/9) at 09.00 hours at Dr. Sardjito General Hospital, Yogyakarta. To honour her the last respect, UGM hosted a ceremony in the Balairung UGM.
Rector of UGM, Prof. Ir. Panut Mulyono, M.Eng., D.Eng., that gave his last honour to the deceased said that during her life, Prof. Sumijati was known as somebody that had high commitment for UGM and Indonesia. Her love for knowledge, particularly, archeology, has been useful to her nation, even the world.
The late Prof. Sumijati was one of the best archelogy researchers in Indonesia. Panut said her professorship inaugural speech in 2004 titled Archeology Resource Treasure in Indonesia: Opportunities and Challenge had become a new reference for the utilisation of archeological resource in Indonesia. Panut added throughout her life, she was known as someone that was highly dedicated to scientific development. This was proven by the many scientific writings and research that she had produced.
Panut representing Universitas Gadjah Mada extended deep condolences to her family for the passing of one of the best teachers of the nation. "I pray that God will forgive her mistakes and accept her pious deeds," said Panut.