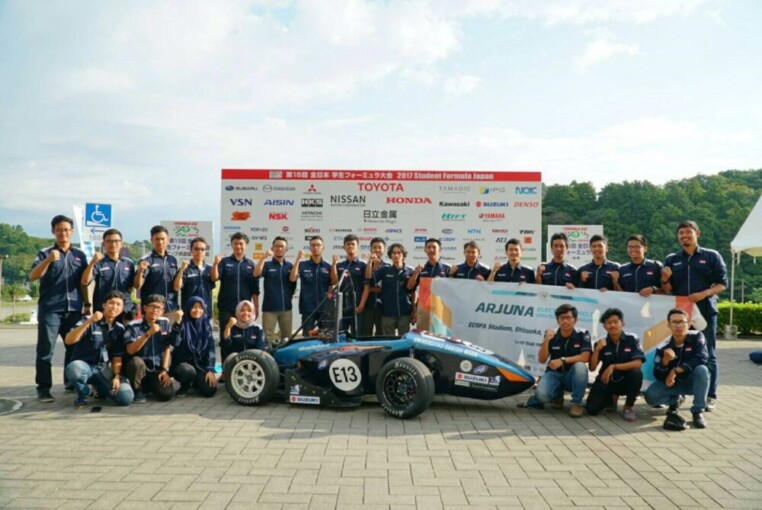 In its debut at an international forum, Arjuna EV UGM, has shown its class in automotive technology. The car, a newcomer to the Student Formula Japan Electric Vehicle Class 2017, has brought home two awards from the static event category as Best Presentation for Overseas Participant and also the 2nd Best Overall Result in ASEAN for EV Class. These achievements made UGM proud because the Arjuna EV UGM could not yet give its best in the dynamic event (autrocross, skidpad, and endurance categories), because the main component of electric car, which is a lithium battery, could not be shipped to Japan due to IATA regulations that forbid lithium battery shipment.
So, the static event competition in the form of design presentation and business logic case became the only hope for the Arjuna EV UGM team.
"Thus, we prepared the presentation maximally with supporting documents that included the design details and specifications of the Arjuna IPC V car," said Luqman Adi Prasetya, team chairperson, on Wednesday (13/9).
Luqman said the technical and non-technical teams worked with synergy for the event. Members of the team come from various disciplines: Halina Pandurattri from Management, Farid Himawan from Accounting, and Mahmudin Amin from Electronics and Instrumentation. The presentation of Arjuna was detailed, communicative, and systematic and this enabled the juries to understand it well and thus generated two awards in its first competition.
All of this is thanks to the guidance and support from five lecturers: Muslim Mahardika, S.T., M.Eng., Ph.D; Dr. Suyitno, S.T., M.Sc.; Eka Firmansyah, S.T., M.Eng., Ph.D.; Triyoga Wahyu Widodo, S.Kom., M.Kom.; and Amirullah Setya Hardi, SE., Cand.Oecon., Ph.D.
Despite the missed opportunity in the dynamic event, Luqman and team were thankful that they had earned invaluable experience from the competition. "All that went on during the Student Formula Competition reminded us to stay focused and prepare different aspects as a contingency against any possible worst case scenario," said Luqman.