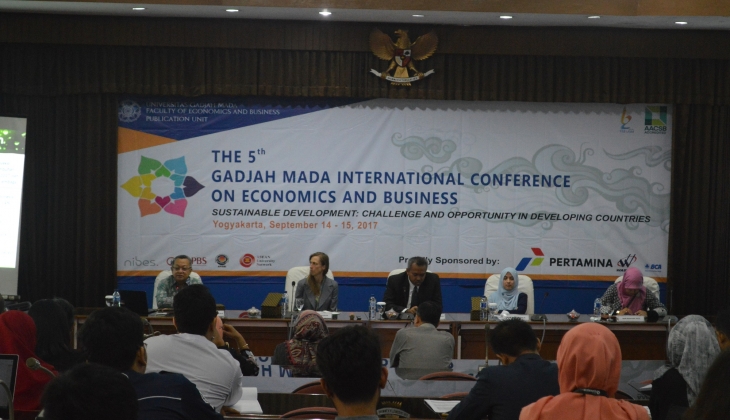 Publication unit of Faculty of Economics and Business of Universitas Gadjah Mada (UGM) hosts Gadjah Mada International Conference on Economics and Business (GAMAICEB) 2017. The 5th GAMAICEB last from 14-15 September 2017, raising the theme Sustainable Development: Challenge and Opportunities in Developing Countries.
Heni Wahyuni, SE., M.Ec.Dev., Ph.D, event chaiperson, said the event carried this theme because it corresponds to many aspects, such as environment, public health, health, poverty, etc.
"As to why we raise the theme of Sustainable Development is because in developing countries, the process from Millenium Development Goals to Sustainable Development Goals has still left some homework to do for us," said Heni Wahyuni in the Faculty's Auditorium of BRI on Thursday (14/9).
Heni Wahyuni added many aspects were discussed during the 5th GAMAICEB 2017 event, not just for development of the current generation but also the next generations. She said what was being done today should not just leave problems but be enjoyed by the next generations.
"Presently, (we're expected to) build and prepare for the next generation. What we do today has to take into account the impacts on the next generation," she said.
Speakers of the GAMAICEB included Dr. A. Tony Prasetiantono from UGM that talked about Indonesian economy as well as global economy.
Other speakers were Prof. Juliet Willet from Australia that talked about environment sustainable development, Dr. Salmi Mohd. Isa from Universiti Sains Malaysia about technology, innovation, and entrepreunership as solution to sustainable development.
As many as 100 participants from Indonesian universities joined the GAMAICEB with 100 abstracts being presented to give contribution and recommendation to policy makers.